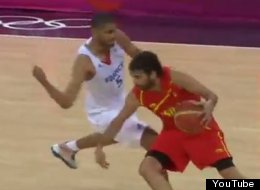 Nicolas Batum took a page out of Argentine Facundo Campazzo's book on Wednesday, delivering a cheap shot in the final minute of Spain's victory over France in the Olympic men's basketball quarterfinals.
All Batum needs now is a lesson from Chris Paul on how to get away with it.
After Juan Carlos Navarro received an inbounds pass with 24.4 seconds left, Batum ran over and landed a punch to his groin. Batum was immediately called for a foul, but a scuffle ensued as Jose Calderon and a couple teammates ran over and started barking at him. The referees quickly intervened and separated everyone involved.
Asked why he threw the punch, Batum said after the game that he "wanted to give him a good reason to flop."
Both teams were said to have flopped several times throughout the game, even drawing the ire of the commentators, one of which called the contest a "farce."
Either way, the incident caused some NBA media members to question why Batum wasn't thrown out of the game.
@ESPNSteinLine

Marc Stein
Full swing that UNEJECTED Batum just took to Juan Carlos Navarro's crotch ... don't even have words for it. In NBA? Five-game suspension
@LAIreland

John Ireland
How does Batum not get ejected for that? In the NBA, he's thrown out and suspended. If he could, Stern would suspend him for this now.
@ZachLowe_SI

Zach Lowe
Not sure what form it would take, but Batum needs to face some punishment for that. Disgraceful play.
UPDATE: Batum took to Twitter after France's loss to apologize for the punch.
@nicolas88batum

Nicolas Batum
I want to apologize for my stupid act at the end, I showed a bad image of France and myself, Congrats to team Spain.