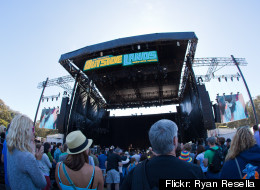 Another year, another best weekend San Francisco has to offer.
But again and again, we flock to Golden Gate Park like a bunch of newbies, making the same mistakes every time. ("I should have brought a sweater!" "Why is the line so long for water?" "Help! I lost my friends and I'm drowning in a sea of port-a-potties!")
That's where we come in. Take a look at your editors' essential Outside Lands survival tips below.
See you at Speedway!
Outside Lands Survival Guide
This is San Francisco, people. No matter how much sun Lindley Meadow may get during the day, the park is bound to hit sub-zero temperatures by dusk. So save your cutoffs for Coachella and be sure to pack a sweater or two. (And if you forget, you can always join a dance party to keep yourself warm.)

Unlike, well, every other music festival in the country, the culinary offerings at Outside Lands are truly spectacular. Don't expect nachos and hot dogs--here, you can sample treats from an array of the city's gems. And be sure to pop by the ginormous wine and beer tents while you're at it.

Or if you do, expect to disperse the instant you hit the entrance. Navigating a festival with a pack of more than, say, five enthusiastic attendees who all have their own agendas is a nearly impossible feat. If you insist on rolling deep, it's best to come up with a specified meeting place at the beginning of the day

It's good to have a rough idea of who you want to see when, and where. The brains behind Outside Lands have put together this nifty little schedule planner so you can do it all online, print it out, and bring it along. You can even share your customized schedule on your social networks so your buddies can compare it with theirs.

The aforementioned said, this is a festival. Plans are made to be broken. Sometimes spontaneous decisions can be the best ones -- it's how we rekindled our high school-era love for The Strokes last year. If you have a few must-sees, definitely make a point to catch their shows, but if you're on the fence, sometimes it's the most fun to go where the crowd takes you.

Shuttles have been lined up, sure, but they cost money and transportation to and from Golden Gate Park can be both spotty and crowded. A long walk down Fulton might be in your future. Or put aside a wad of cash in advance for that emergency cab home -- if you can find one.

As the fatalists at summer camp used to say, "hydrate or die!" And save the planet while you're at it. The Outside Lands crew offers a great program in which you can purchase a branded bottle on-site and fill it for free for the whole weekend, or bring your own and fill it up for a dollar a pour. Either way, drink lots of it. (And wrap that flask in a towel or hide it in your bra, if you must.)

Especially if you can't make it to the actual fest. Some of the biggest names will be performing night shows throughout the city, so take a look at the listings here.

The Outside Lands apps can prove extremely helpful. Unless you have AT&T, in which case, you can leave your phone at home.