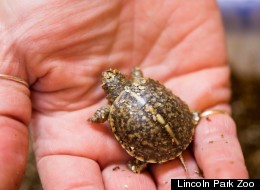 Lincoln Park Zoo's animal population grew by 18 this week when a clutch of ornate box turtles hatched.
The quarter-sized turtles will receive special medical care from the zoo before they're released at Lost Mound Sand Prairie in Savanna, Ill., as part of a partnership between the zoo and the U.S. Fish and Wildlife Service, according to a release.
"Our job at Lincoln Park Zoo is to give these little guys the best possible head start. In a sense, we are a turtle nursery," General Curator Dave Bernier said in a statement. The turtles hatched from eggs collected in the wild and incubated at the zoo. For the next year they'll live in a warm, balmy environment surrounded by moss, and feed on specially-formulated turtle chow.
"Our team is going to see to it that these turtles are strong, mature and ready to thrive in the wild when they leave the zoo next year," Bernier said in a statement.
The box turtle population in Savanna, Ill. has severely decreased as a result of habitat loss caused by years of military activity in the area, according to the zoo. Lost Mound now offers a state- and federally-protected stretch of sand prairie, the turtles' optimal environment, where the project hopes to eventually establish 100 healthy turtles.
Check out the turtles and other new cuties at Chicago-area zoos:
Chicago-Area Zoo Additions
August 27, 2012 The Shedd Aquarium welcomed a beluga whale, Mauyak's calf, to the family around 2 a.m. The little whale--estimated at 4½ feet and 150 pounds--arrived after a smooth labor. Both mom and calf are doing well, and the calf appears to be strong. As with any marine mammal birth, Shedd's animal care and animal health staff members remain cautious during these early hours as they watch for the calf to pass a number of critical milestones. But the little beluga is in the best care possible--Mauyak is an experienced mom, and she has a support crew of trainers and veterinarians who are monitoring the pair around the clock.

August 23, 2012 Lincoln Park Zoo recently welcomed a male Grevy's Zebra foal, the second offspring for five-year-old mom Adia and six-year-old dad Clayton. The newborn's brother, Enzi, was born in 2010 and still lives at Lincoln Park Zoo. Adia and Clayton are recommended to breed by the Grevy's zebra Species Survival Plan (SSP), which manages the zoo population of this endangered African animal. Animal care staffers are especially excited about the birth because it has been such a long time coming--Grevy's zebras have a gestational period of more than a year.

August 21, 2012 Even though the newest arrival at Lincoln Park Zoo only weighs a few ounces, the diminutive Bolivian gray titi (pronounced tee-tee) monkey is a big deal. The baby, born August 18, is the ninth offspring for its parents, and its mother is the oldest of her species to give birth in a North American zoo. Animal care staffers do not know yet if the little one, which joins a small population of only around 50 other Bolivian gray titi monkeys in accredited zoos nationwide, is a boy or a girl - but they do know it is adorable!

August 15, 2012 One of the smallest bird populations in the world has just increased thanks to a recent hatch at Lincoln Park Zoo. I'm happy to announce that three Bali mynah chicks are growing behind the scenes at the McCormick Bird House. These new arrivals bring with them hope for the conservation of their species. Bali mynahs are nearly extinct in their native Indonesia, their population decimated by poaching for the illegal pet trade.

August 7, 2012 Eighteen newly-hatched and oh-so-cute ornate box turtles have a big future ahead at the Lincoln Park Zoo. The new arrivals will spend their first year getting the royal treatment down the hall from the king of the jungle at the zoo's Kovler Lion House before being released into their natural home, Illinois sand prairie. These quarter-sized turtles are part of a conservation effort between Lincoln Park Zoo and the U.S. Fish and Wildlife Service (USFWS) that aims to restore the dwindling population of the threatened ornate box turtle across the state.

July 11, 2012 Two wombats orphaned in Australia were relocated to Brookfield Zoo in July. They will eventually go to Toronto Zoo in Canada and hopefully breed, adding to the North American population. This marks the first importation of this species to the United States in several decades. The pair is part of a collaborative program with Zoos South Australia, a non-profit conservation organization that is sending rescued wombats to participating North American zoos. Currently, including the two that just arrived, there are only nine wombats living in North American zoos. Brookfield Zoo is home to three wombats with another on the way. Movement of a 5-month-old joey in the pouch of Kambora, the zoo's 12-year-old female wombat, has been observed by Animal Programs staff. Until early fall when it will begin to poke its head out, the joey will remain in Kambora's pouch where it is getting all the necessary nutrients it needs to fully develop.

June 20, 2012 Animal keepers were pleasantly surprised to find the little piggies when they arrived at work at the Lincoln Park Zoo June 20. The piglets were snuggled down with their mom, a nearly 200 pound sow named Lady who recently came to the zoo from a nearby farm. Lady and her piglets are temporary residents of Lincoln Park Zoo, which works with an area producer to host a couple of expectant sows every summer. The new arrivals take after their mom in coloring, but, at only around two pounds each, are significantly smaller. That will change soon enough, as the piglets will gain at least a pound every day. Lady and her piglets are on exhibit daily in the Livestock Barn at the Farm-in-the-Zoo and will be calling the zoo home until early August.

May 30, 2012 The Lincoln Park Zoo recently welcomed four female African wild dogs. The siblings, nearly two years old, are part of the African Wild Dog Species Survival Plan, a cooperative initiative among zoos to manage this highly endangered predator, whose wild population in eastern and southern Africa has been decimated by hunting, habitat loss and disease spread by humans and domestic dogs. African wild dogs are very social carnivores, with complex hierarchical rank orders and vocalizations, which will make them lots of fun for zoo visitors to observe. Located at Regenstein African Journey

May 29, 2012 Two fairy bluebird chicks have hatched at Lincoln Park Zoo's McCormick Bird House. This fruit- and insect-eating species is common to tropical rain forests throughout north India and southeast Asia. Look for the youngsters, with their dark blue feathers, in the Tropical Forest exhibit.

May 27, 2012 A second clutch of crested wood partridge chicks hatched at Lincoln Park Zoo. The five newcomers can be seen in the Tropical Forest exhibit at the McCormick Bird House. In this photo, dad sports the large red crest on his head. The females of this dimorphic species, native to Southeast Asia and Indonesia, lack a crest. Both parents gather grains, seeds and fruits for the new arrivals.

May 26, 2012 It takes a keen eye and patience to view the sunbittern chick in its mother's nest in the Free Flight Area of the McCormick Bird House at Lincoln Park Zoo . If you're lucky, you may see mom spread her wings to display large red, yellow and black spots, which this intricately patterned Central and South American species displays in its native forest habitat to scare away predators, who mistake the markings for eyes. Listen closely, too, for the parents' call, which sounds like a flutelike whistle.

May 16, 2012 The Brookfield Zoo family got a little bigger this month--and will get a lot bigger as their newest addition grows. The Chicago-area zoo welcomed a new female bison calf on May 16, the first birth of the species at Brookfield Zoo since the early 1970s, according to a release. The as-yet-unnamed calf was born to Leotie, a 3-year-old bison who came to the zoo in 2009 from Wildlife Prairie State Park in Peoria, and Ron, who is 12. She joins a six-bison herd that includes Judy, 12, Becky, 13, Drew, 13, and Lucy, 3.

May 17, 2012 A colony of cactus mice, a new species for Lincoln Park Zoo, is now living at Regenstein Small Mammal-Reptile House. The burrowing noctural rodents are native to deserts in the southwestern United States and northern Mexico. The zoo's colony includes two males and six females. Visitors can see these nesters actively foraging for food in their simulated underground burrow. Located at Regenstein Small Mammal-Reptile House

May 10, 2012 Lincoln Park Zoo's first-ever red river hog is now roaming the east outdoor exhibit at Regenstein African Journey. A 5-year-old from Columbus Zoo, Lily belongs to Africa's smallest and most colorful swine species. In the wild red river hogs eat everything from grasses to small animals, also using strong teeth to dig for roots. Fittingly, Lily already been spotted digging up her exhibit. Located at Regenstein African Journey

May 5, 7 and 8, 2012 The five European white stork chicks at the Lincoln Park Zoo's Regenstein Birds of Prey Exhibit are rapidly outgrowing their huge stick nest. The quintet represents the third clutch produced by parents Jethro and Cheyenne in as many years. "The chicks can gain 15 percent of their body weight a day," says Colleen Lynch, Hope B. McCormick Curator of Birds. "They stay in the nest about 10 weeks and can fly at three months old. They're already getting their primary feathers [for flight], replacing the down."

May 5, 7 and 8, 2012 European white storks have hatched for the third straight year at Regenstein Birds of Prey Exhibit at Lincoln Park Zoo. The little ones can be spotted in the massive stick nest at the west side of the exhibit, although they're still spending much of their time sheltered beneath mom or dad. Look for more updates soon!

April 29, 2012 Baby Bourke's parrots hatched about three weeks earlier, but two chicks came out of the nest for the first time on April 29. On April 30, we were surprised to see a third chick emerge from the nest of these small Australian parakeets. Chicks and parents can be seen on exhibit in the Forest Edge exhibit at the McCormick Bird House at Lincoln Park Zoo.

February 14, 2012 Brookfield Zoo welcomed an adorable new addition this week: a 6-week-old male, black-footed cat born on Valentine's Day. Black-footed cats, the smallest of the African felines, are classified as "vulnerable" on the International Union for Conservation of Nature's Red List of Threatened Species. The kitten, the first of his species to be born within the Chicago Zoological Society (CZS), has had a rough beginning. Hours after his birth, the kitten's 4-year-old mother, Cleo, failed to exhibit proper maternal care, according to the zoo's announcement, worrying Animal Programs staff, who intervened and have begun handrearing him at the CZS Animal Hospital.

January 21, 2012 According to the Brookfield Zoo, the baby aardvark was born on Jan. 12 at 4.5 pounds, and was already 13 pounds on Wednesday. Its mother, Jessi, and its father, Hoover, were part of a breeding program and on loan from other zoos. The aardvark has not been named yet, and its gender has not been determined. After a few more months of around-the-clock care, the aardvark will be shown at the zoo.