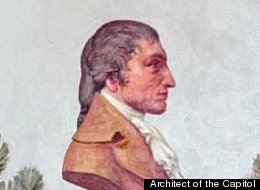 WASHINGTON -- Happy birthday to Pierre Charles L'Enfant, the French-born engineer and architect best known for his grand design for the nation's capital.
L'Enfant, born on Aug. 9, 1754, came to fight in the American Revolutionary War in 1776 and was hired in 1791 to plan the nation's capital. He was then fired not much later.
The European-style tree-filled city L'Enfant had in mind included a grid system, wide and tree-lined diagonal avenues, public squares, monuments, fountains, canals, and, according to conspiracy-minded folks, Satanic symbols. (Some say L'Enfant was a Mason.)
Possible Satanic inclinations aside, L'Enfant was an "exasperating genius," according to Lawrence Knutson, writing about the designer's difficult if enduring legacy for the AP in 2000. Indeed, the architect had disagreeable traits -- a temper, and "overbearing disposition," as PBS puts it -- that led to unpleasant turns; being sacked by George Washington in 1792 was just one of his sufferings:
Tragically, L'Enfant's life continued on a downward spiral. He refused payment offered him for his work on the plan for the Capitol, and also an appointment as professor of engineering at the Military Academy at West Point. During the War of 1812 with England, he set to work constructing fortifications near Washington, but again quarreled with his superior officers and left the service. He apparently haunted the doors of Congress for years with applications for payment for his work, but they came to naught.

Poor and forgotten, he spent his last days at the home of a friend, William Dudley Digges, near Bladensburg, Md., where he died and was buried on June 14, 1825. It wasn't until April 1909, in accordance with an Act of Congress, that the remains of Major Pierre L'Enfant were removed from the Maryland gravesite and re-interred, with full military honors, in the Arlington National Cemetery.
In the early 1900s, parts of L'Enfant's original plan for D.C. were also redeemed. "L'Enfant's plan was magnified and expanded during the early decades of the 20th century with the reclamation of land for waterfront parks, parkways, an improved Mall and new monuments and vistas," as the National Park Service puts it.
And on what would have been the exasperating genius's 187th birthday, we've got some suggestions on how to appreciate his legacy.
Near the National Mall -- L'Enfant's "Grand Avenue" -- check out the Lockkeeper's House at 17th Street NW and Constitution Avenue. It's the last standing piece of L'Enfant's proposed Washington City Canal, once connected with the C&O Canal, later called "that pestiferous ditch of water" in a Secretary of War annual report, and abandoned after the Civil War.
As Congress contemplates abandoning height restrictions, which some trace back to L'Enfant, another way to honor D.C.'s first planner could be to imagine where new tall buildings should go.
It might be more fun, though, to search for meaning in D.C.'s missing J Street or ponder occultist conspiracy theories about L'Enfant's supposedly devil-loving layout for the beautiful swamp (or not) we call home.
Check out more of the Washington, D.C. that could have been -- images are from the National Building Museum's "Unbuilt Washington" exhibition from earlier this year:

This entry to the U.S. Capitol design competition by James Diamond in 1792 is one of many sent in by amateur architects. This one is notable for its oddly drawn weathercock.

Although this 1792 entrant to the White House design competition is attributed to someone named "A.Z.," many scholars believe its creator is actually Thomas Jefferson.

This design for the U.S. Capitol, proposed by William Thornton in 1797, features a high dome.

This drawing features an 1873 competition entry by Leon Beaver to design the Library of Congress.

When construction of the Washington Monument was suddenly halted in 1856, the structure was left half finished for four decades. This proposal to complete the project, put together by Vinnie Ream Hoxie between 1876 and 1878, features a large statue of Washington.

On what is currently the site of the Washington Hilton, Waddy B. Wood proposed an enormous Masonic Temple complex. This design dates to 1922-24.

In 1852, B.F. Smith suggested several improvements to the Washington Monument and National Mall. Among them: A variation on the circular colonnade, which was actually part of the monument's original design but never executed. He also proposed a suspension bridge across a canal adjacent to the Mall, which is today's Constitution Avenue.

The Kennedy Center could have looked like this. The above image shows a curvy, modern proposal by Edward Durell Stone, dated 1959. It's drastically different from the boxy design that was eventually chosen.

This image contains Robert Mill's 1846 winning entry for the competition to design the Washington Monument. The original proposal features an obelisk anchored by a circular, Greek-inspired temple at the base. The base was never executed, and when the structure was finished nearly four decades after this drawing was produced, the proportions of the obelisk itself were changed.

The White House would look much different today if these proposed extensions by Robert Owen between 1891 and 1901 went forward. He wanted to create two approximate replicas of the original structure, rotate them 90 degrees and place them on either side. An open court with a green house would reside at the south end.

What if the president didn't live in the White House? In 1898, Mary Foot Henderson, the wife of a former U.S. senator, commissioned architect Paul Pelz to design this palatial replacement. It would have sat on Meridian Hill -- directly across the street from the Henderson's own 16th Street NW mansion.

Today, we think of the Memorial Bridge (which honors General U.S. Grant) as a modest, low-to-the-ground structure. This proposal by Smithmeyer & Pelz from 1887 imagines it differently, with tall towers in the middle of it.

In 1974, Hugh Newell Jacobsen proposed a project called "Housing on the Avenue," which would have been located along Pennsylvania Avenue NW on the current site of Market Square complex and the Navy Memorial. The terraced look was designed to look like Italian hill towns.

Ever heard of the National Sofa? This tongue-in-cheek project from 1996 by Jim Allegro, AIA, and Doug Michels would have been located across Pennsylvania Avenue in front of the White House. The National Sofa, inspired by the concern sparked by the closure of Pennsylvania Avenue following the Oklahoma City bombing, was designed as a way to prevent isolation of the presidency from the people.

This was actually a serious proposal: In 1989, Doug Michels Architecture collaborated with Jim Allegro to propose the Dolphin America Hotel. Michels was fascinated by dolphins and suggested various projects that would bring humans into closer contact with them.

It's hard to imagine the Lincoln Memorial as a terraced pyramid. This proposal by John Russell Pope in 1912 was one of his several designs in a variety of different styles.