If Kim Kardashian and Kanye West were little people pegs seated in a car in the game of Life (you remember the board game), they'd be careening around those gameboard curves at breakneck speed. Marriage talk? Check. Baby talk? Check. Matching outfits? Sure.
We're not sure at which stage comes the Wearing Clothes Your Partner Designed landmark, but Kimye is circling it and headed for home (to mix game metaphors). The couple headed out in what looks like the Soho neighborhood of New York on Wednesday in matching head-to-toe black, with Kanye sporting a pair of Air Yeezy II sneaks and Kim wearing her own Kanye-designed footwear: those $6,000 furry Giuseppe Zanotti heels, which debuted at Kanye's Spring 2012 runway show.
Last time Kim wore the bootie-stilettos was at West's Fall 2012 runway show, where she surprised everyone by showing up to support the hip hop star's design career. The pair weren't a couple then, but perhaps we should have known -- who else would dare to wear those questionable heels? That's true love right there.
She's also got her own pair of Air Yeezy II's, but that's not such a sacrifice. They look very comfortable.
Check out the pair's his-and-her (or rather, his-and-his) shoes below.
August 2012: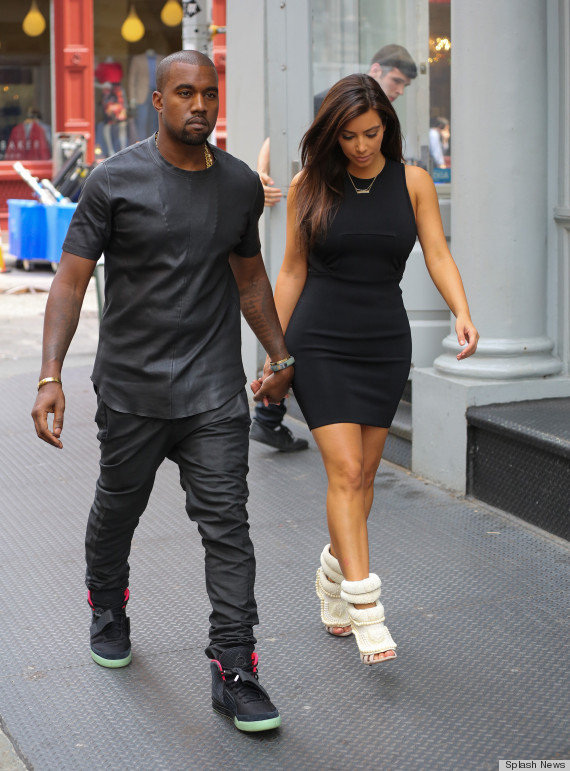 March 2012: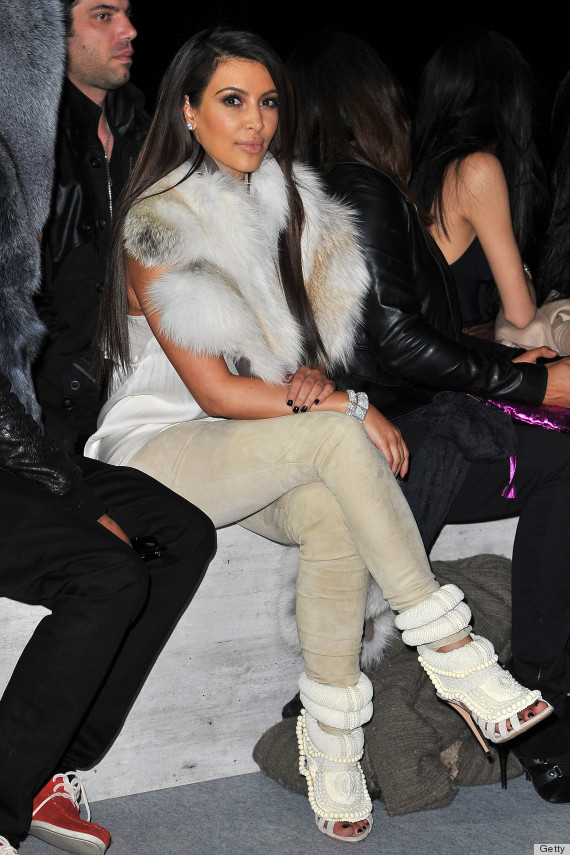 Check out how Kim looked years before Kanye in our style evolution:

Loading Slideshow
With Family, October 1995

With Khloe, Kourtney, Bruce Jenner, Kris and Robert.

With Kourtney, August 2005

With Ray J, March 2006

June 2006

With Paris Hilton, June 2006

July 2006

September 2006

November 2006

March 2007

July 2007

October 2008

March 2008

July 2008

September 2008

October 2008

December 2008

December 2008

December 2008

April 2009

May 2009

With Brittny Gastineau, June 2009

With Reggie Bush, June 2009

July 2009

July 2009

August 2009

September 2009

October 2009

November 2009

February 2010

With Kourtney, March 2010

March 2010

June 2010

August 2010

August 2010

September 2010

September 2010

October 2010

October 2010

WithKylie, Khloe, Kourtney and Kendall, January 2011

January 2011

January 2011

February 2011

March 2011

April 2011

June 2011

August 2011

With Kris Humphries, August 2011

September 2011

September 2011

October 2011

October 2011
Want more? Be sure to check out HuffPost Style on Twitter, Facebook, Tumblr and Pinterest.