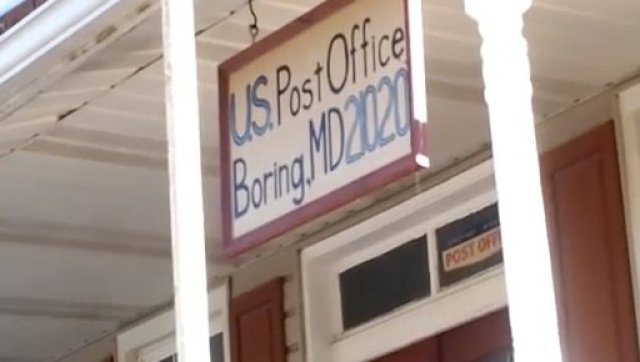 Boring, Md., in Baltimore County, shares the No. 3 slot with Boring, Ore.
The list was compiled based on a survey of 2000 people contacted by the website. Some of the names on the top 10 might raise eyebrows -- Monkey's Eyebrow, Ky., for example, has an unusual name, but it's certainly not dull. Or Boring. (Speaking of: a list of things to do in Boring is titled "Top Boring Things To Do." And, truthfully, they don't sound all that interesting and most them aren't even in Boring to begin with.)
Here's findmypast.com's full list of bad town names:
1. Toad Suck (Arkansas)
2. Climax (Georgia)
3. Boring (both Oregon and Maryland)
4. Hooker (Oklahoma)
5. Assawoman (Virginia)
6. Belchertown (Massachusetts)
7. Roachtown (Illinois)
8. Loveladies (New Jersey)
9. Squabbletown (California)
10. Monkey's Eyebrow (Kentucky)
SUBSCRIBE AND FOLLOW
Get top stories and blog posts emailed to me each day. Newsletters may offer personalized content or advertisements.
Learn more