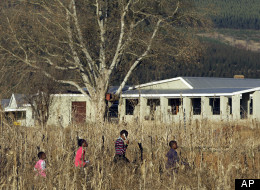 HARTFORD, Conn. -- The Peace Corps has voluntarily agreed to contribute $20,000 to a fund for four girls sexually abused by a former volunteer while he was serving in South Africa.
Jesse Osmun pleaded guilty in June in U.S. District Court in Hartford to traveling from the United States to engage in illicit sexual conduct with children. Authorities say the victims were 3 to 6 years old at the time.
Osmun's attorney, Richard Meehan Jr., said the Peace Corps offered the contribution at a hearing Thursday in Hartford. Meehan says Osmun's family also plans to donate $10,000 to the fund to help the victims.
Osmun faces between 14 to more than 21 years in prison under federal guidelines when he is sentenced Oct. 10. Meehan has described Osmun as remorseful.
A Peace Corps spokeswoman confirmed the donation.
A Peace Corps representative and the U.S. Attorney's Office both said the donation was not an indication that the Peace Corps bore any responsibility for the crime, Meehan said.
The Peace Corps has said it was made aware of the allegations after Osmun resigned and has called the crimes "reprehensible."
Peace Corps volunteers, who are provided with a living allowance and receive transition funds after they complete 27 months of service, provide hands-on assistance in areas including health education, information technology and environmental preservation. The Peace Corps has sent more than 200,000 Americans to serve in 139 countries.