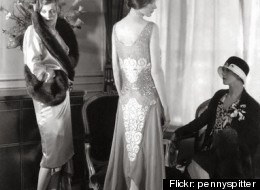 Midlife can pose unique fashion dilemmas -- especially when skirt hemlines hit 21 inches, low-rise jeans abound and orange is the hot hue. (It reminds us of the line in the film "Legally Blond" when Reese Witherspoon's character Elle Woods meets with a client wearing a prison jumpsuit: "You look so ... orange." Really, does anyone look good in orange?)
Never fear -- post 50 men and women in search of a little fashion inspiration should look no further than their computers -- the blogosphere offers a solid sampling of fashion over 50 bloggers who are chronicling their adventures in shopping and self-expression for the rest of us.
From former Lucky editor Kim France's ode to shopping and pop culture, Girls of a Certain Age, to the Grey Fox and his chronicling of bold looks for the "generally smartly dressed and stylish, but not necessarily conventionally good-looking" older man, we've rounded up 11 of our favorite fashion over 50 blogs. Please add yours in the comments!
11 Fashion And Beauty Blogs By And For Stylish Post 50s
"I started this blog in 2009 as I see no reason why we should not continue to enjoy fashion whatever age we are," writes Josephine of Chic at Any Age. She hopes her blog will be "a useful resource on what works from underwear to special occasion dressing for more mature women."

Mis Papelicos is all about Sacramento, an English professor and a nutrition and diet expert in Andalucía, Spain (hence the bilingual captions). Her bi-weekly posts feature the funky and elegant ensembles she puts together, as well as other images that inspire her style.

Grey Fox adds a male perspective to the post 50 fashion and style blog community. The site is dedicated to "a man's search for style in middle age." Recent posts include tips on "[keeping] the costs of style in control" and a roundup of stylish bald "grey foxes" in popular culture.

Don't be deterred by the name -- Style Crone is a blog "dedicated to the older woman, in her most creative, outrageous, authentic, powerful, adventurous, funny, and proud era." Far from a crone, Judith writes, "choosing my outfits, which always included a hat, was a way to express myself creatively and as a form of meditation as I approached my day." Along with snapping pics of her outfits for her blog, she also owns a hat shop, sells vintage clothing and designs hats for chemotherapy patients.

Une Femme D'Un Certain Age is a blog focused on "living a stylish, adventurous, balanced [and] delicious life after 50" -- with a francophile twist. Recent posts include a review of flattering skinny jeans for post 50s by Not Your Daughter's Jeans, and a reflection on being "the boss of what our age means" style-wise (spoiler: Une Femme believes it's important not to confuse trying to pretend you're 25 with looking "current").

Blogger Susan documents her quest to find fashion post 50 in Flattering 50. "I'm doing my thinking publicly in my blog ... in the hopes that others might join in the conversation," she writes. With posts such as "Top 10 Dress Styles for Women Over 50" and "Swimsuits over 50: Where to Shop," it's hard not to chime in.

"Hip past 50 doesn't have to refer to surgery," blogger Joni quips on her blog, Walking Colors. Sharing photos of her outfits with an online community allows her to "unleash the side of me I've been hiding for way too many years [and] receive support and encouragement...there is definitely a camaraderie here in these blogs that we all share," she writes.

Okay, so the "girls" Kim France is writing for haven't quite hit 50 -- but Kim herself was 48 when she left her post as editor in chief of Lucky magazine and turned her energies to Girls of a Certain Age, a blog for "grown-ups who can't quite part with the notion that motorcycle boots, if styled properly, can make for a perfectly acceptable evening look." Its focus is primarily on shopping, though it also occasionally delves into pop culture.

"I am a fifty-something woman, wife, professional, auntie and crazy cat lady. Though pressured by society to recede gracefully, I prefer to burst out with a love of fashion and style. We are not dead yet, so let's enjoy every sandwich and gild the lilies." That pretty much sums up the aim of Patti's Not Dead Yet Style. Her blog also features a weekly "Visible Monday," where readers are invited to share an image of themselves sporting an "outfit, accessory, piece of jewelry, cosmetic or other adornment" that makes them feel alive and confident.

Fashion After 50 features fashion advice by category (bohemian, travel clothes, fabrics you love), a "fashion archetype quiz," dos and don'ts for fashion after 50 and opportunities to buy some of the blog's featured items.

"'Growing old gracefully' is an outdated concept. We prefer 'growing old with verve.' This blog documents our efforts to live up to that motto, in photos and essays," the Idiosyncratic Fashionistas write. Sample post: an ode to fashion journalist and muse Anna Piaggi, who recently passed away at the age of 81, featuring photos of some of her memorable ensembles.