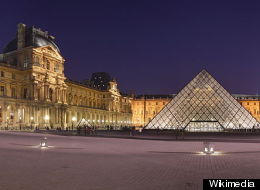 Today is the anniversary of the opening of the Museum Central des Arts, or the Musee du Louvre as it is known as today. Standing as one the largest and most visited museum in the world, the Louvre first made its masterpieces available to the public 219 years ago today.
The famed French museum began as a fortress built in the late 12th century under Philip II, then called the Palais du Louvre. During the reign of Louis XIV in the 17th century, the Louvre became a place to display the royal collection and later a home for the Académie des Inscriptions et Belles Lettres and the Académie Royale de Peinture et de Sculpture, which held salons there for nearly 100 years... And then the French Revolution happened. It was during this period that the Louvre was transformed into its present state -- a public museum called the Museum Central des Arts. Opening on August 10th, 1793 with an exhibition of over 500 paintings, the museum would grow exponentially over the next two centuries to become a beloved historical monument and one of the most revered destinations for fine art of all time. It now has over 35,000 pieces of the world's most important art.
So on the anniversary of the Louvre's first public opening, we put together a slideshow of 10 of the most famous works of art at this historic museum. Check out the must-see masterpieces below and let us know what your favorites are in the comments section.
10 Must-Sees At The Louvre
Venus de Milo. Parian marble, ca. 130-100 BC. Found in Melos in 1820. Department of Greek, Etruscan, and Roman Antiquities: Hellenistic Art (3rd-1st centuries BC)

The Mona Lisa (or La Joconde, La Gioconda). Leonardo da Vinci. ca. 1503-1505. Department of Paintings: Italian painting

Liberty Leading the People. Eugene Delacroix. 1830. Department of Paintings: French painting

Psyché ranimée par le baiser de l'Amour (Psyche revived by the kiss of Love). Antonio Canova. 1793. Department of Sculptures

Oedipus and the Sphinx. Jean-Auguste-Dominique Ingres. 1808. Department of Paintings: French painting

The Raft of the Medusa. Theodore Gericault. ca. 1818-1819. Department of Paintings: French painting

Milon de Crotone. Pierre Puget. 1682. Department of Sculptures

Louis XIV (1638-1715). Hyacinthe Rigaud. 1701. Department of Paintings: French painting

Death of the Virgin. Michelangelo Merisi, known as Caravaggio. 1601-1605/1606. Department of Paintings: Italian painting

The Louvre's Cy Twombly Ceiling

Although it won't reopen until September of 2012, the Louvre's Islamic art collection totals 3,000 objects spanning 1,300 years of history and three continents. It's certainly a must-see.