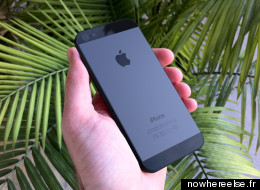 Hello, ladies and gentlemen, and welcome to This Week In Apple Rumors, our regular look back at all of the week's unconfirmed gossip, questionably-sourced reports, and blatant speculation about future Apple products from around the Web! Let's take a look back at what the various Apple blogs and websites we're excited about in the past week, from August 5 - 11. Check out our previous edition of Apple rumors here, and for all the latest you can follow me on Twitter right here.
At this point in the game, we're pretty sure that Apple will unveil its next iPhone on September 12, or somewhere close. All that remains is to figure out what the heck this thing is going to look like. We think -- think! -- that the major difference between the so-called "iPhone 5" and iPhone 4S will be a larger screen: Rumors put the screen size of the iPhone 5 at 4.0-inches diagonally, up from 3.5-inches diagonally on the iPhone 4S. This week, 9to5Mac wunderkind Mark Gurman was toying around with a pre-release of the iOS 6 operating system and found that it conveniently scales up to a taller iPhone display, with 5 rows of icons instead of 4. That would seem to be a sign that when iOS 6 ships, along with the new iPhone, it will fit fine on both the 3.5-inch display of the iPhone 4S AND the taller display of the iPhone 5. How big will that display be? Well, according to a fresh leak from the Chinese Apple.pro, it's still on track to be 4.0-inches. More interestingly, that report claims the next iPhone will be 18 percent thinner than the iPhone 4S, chiseling down the width of the phone to 7.6mm. That would be pretty, pretty thin, if it's true; alas, Apple.pro isn't the most reliable of sources. Still, after Peter Svensson of the Associated Press called the iPhone 4S "small and chubby" compared to the top Android phones, we'd be very surprised if Apple didn't substantially thin its new iPhone. And now: Photos of a bunch of supposed iPhone 5 parts! Go go gadget porn!

Sorry, friends: We didn't get any tantalizing videos or snapshots of a fully constructed iPhone 5 this week. But we did get the next best thing: a random smattering of wiring, circuits, and plastic doodads that could be part of the next iPhone! At left, you can check 'em all out, breathe them all in, meditate on them, consider their implications. Probably the most exciting thing here is the front cover, which does hint at that taller screen we were just talking about. Otherwise: Unless you are a very special kind of person, with very eccentric tastes, there's not much here to arouse your interest. Also in the Apple rumor-sphere this week, a supposed photo of the iPhone's battery leaked out, and it appeared to be about the same size and capacity as the current iPhone's battery. Cue Apple blogger hyperventilation: Because the next iPhone is all but certain to come with 4G LTE -- which sucks battery life faster than [FAMILY PUBLICATION] -- a similar-sized battery can only mean that the iPhone 5 will have power drain issues! Meanwhile, back on earth, we're going to wait until the new iPhone is released until we fret about its battery life. Moving along.

Right now, if you want to enjoy some high-definition Retina MacBook goodness, you have to buy a 15-inch model. Over the past month, however, we've been hearing whispers that Apple could be adding to the family with a 13-inch Retina MacBook: Apple oracle Ming-Chi Kuo of KGI Securities said as much, and a device that looked a lot like a 13-inch Retina MacBook showed up in the Geekbench results page back in July. Now, just like the Spice Girls, that Retina-quality 13-inch MacBook Pro is BACK, once again appearing in the Geekbench database. MacRumors has all the (very, very) nerdy details, for those who are in to feeds and speeds. For our purposes, however, let's just note that a 13-inch MacBook Pro with Retina display is looking more likely and could be on track for an October release, as previously suggested.

No new iPad Mini "news" this week -- we're still at the point of debating when this bad boy is going to come out (in September, along with the iPhone 5; or in November, just in time for Christmas; or perhaps in March 2013, along with the iPad 4 new iPad). We do, however, have the next best thing: Mockups! Here's one from the designers at InventHelp (find them on Facebook here), from a Gizmodo article that was accurately titled "This Is How the iPad Mini Might Look Next to the iPad." And, yes, this is how an iPad Mini might look next to the iPad! For more photos of how the iPad Mini might look like next to the iPad, I would highly encourage you to visit the Gizmodo post titled "This Is How the iPad Mini Might Look Next to the iPad." (There's also more iPad Mini mockups, also from InventHelp, at ZDNet this week). And that, ladies and gentlemen, is the end of this week's edition of This Week In Apple Rumors. Make sure you check back next week, when we'll detail not only how an iPad Mini might look next to an iPad, but also how an antelope might look next to a peanut better and jelly sandwich (SLIDESHOW)(HORROR). And remember, if you can't wait until next week, you can get up-to-the-minute Apple rumors by following me on Twitter right here.