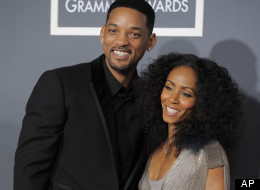 Jada Pinkett Smith's heard all about those pesky, persisting rumors that she and Will are divorcing.
"It seems like that happens at least once a year, or at least once every two years," the 40-year-old actress told Essence in the magazine's September issue.
"It's rumored that we're getting a divorce. But no. We're not getting a divorce. Where am I gonna go? Where am I going to go?" Pinkett Smith said of her 15-year marriage to Smith, with whom she has two kids, Jaden and Willow.
"That's my boo," she added. "It's like he's another part of me."
It's not the first time the "Madagascar 3" star has tried to put the rumors to rest. When divorce speculation picked up in August 2011, the couple issued a statement denying the allegations: "Rumors circulating about our relationship are completely false. We are still together, and our marriage is intact."
Still, the rumors continued to swirl. In January 2012, In Touch Weekly reported that the actress had met with powerhouse divorce lawyer Laura Wasser. It didn't seem like mere coincidence when Pinkett Smith used her Facebook to release a steamy song dedicated to Smith only a month later.
So where is all this split speculation coming from? In April, Pinkett-Smith told French magazine Gala she really "had no idea"
"Every year, one celebrity couple is under the microscope," she said. "This year, unluckily, it's us! I almost want to say that we should have been expecting it."
The Smiths aren't the only celeb couple to have their marriage come under attack as of late. Click through the slideshow below to see other famous pairs whose marriages are perennially rumored to be on the rocks.
Is Khloe Kardashian Odom and Lamar Odom's marriage bound to go the way of Kim Kardashian and Kris Humphries'? The couple has certainly been put through the wringer lately, with their much publicized struggle to conceive and Lamar being traded to (and subsequently leaving) the Dallas Mavericks. In light of that, it's little wonder the tabloids single them out as split-bound. Still, it seems like Kardashian has the right idea. Earlier this year, the reality star announced that she and Odom would be putting their E! show, "Khloe & Lamar" on hold so that they could "prioritize a little."

In January 2012, Star magazine reported that Gwen Stefani and Gavin Rossdale had begun attending couples counseling in the hopes of saving their 10-year marriage. The reason their rockstar union was reportedly on the rocks? Rossdale's jealousy over his wife's fame and Stefani's discomfort with her husband's past, the tabloid claimed. The next month, Stefani addressed the split rumors in an interview with "Access Hollywood:" "It doesn't matter -- you could have a picture that has nothing to do with what's going on in a rumor and they make it look like it's part of the rumor."

Reality star Bethenny Frankel and husband Jason Hoppy have dodged divorce rumors throughout their two-year marriage, some even perpetuated by Frankel's own mother. In March 2012, In Touch magazine alleged that things had gotten so bad between Frankel and Hoppy that he'd left their New York City apartment to stay in a nearby hotel. The star of the Bravo series "Bethany Ever After" addressed the speculation in a blog post in March 2012: "I know you have all been worried about my relationship, and the show got off to an emotional rocky start, but isn't life like that? Sometimes we cringe, sometimes we get anxiety, but ultimately, we buckle up, hold on, and get to the next place.

She's pregnant with their fourth child, but a recent Star magazine article claimed that Tori Spelling and Dean McDermott are on the brink of separation, with a source reportedly claiming that the couple "have already separated three times." But a rep for the actress told Gossip Cop that the claims are "not true."

In January 2011, former Playboy playmate swatted down rumors that her marriage to football player Hank Baskett was on the rocks. But in an October 2011 episode of E!'s "Kendra," Baskett recalled hitting "the absolute bottom" with his wife after an intense argument where the subject of divorce was brought up. Meanwhile, Wilkinson admitted to using the "D-Word" twice in past arguments with Baskett, but added that she'll never utter the word again. Instead, she said she swaps in alternatives when the conversation calls for it: "'F*** you,' or 'I hate you.' Profanity is preferable to the 'D-Word,'" she explained.