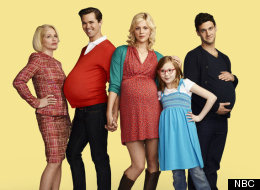 NBC has been making the most of its sizable Olympics audience by previewing some of its most buzzed-about new series during the London 2012 coverage. Following an extended clip of "Revolution" and a full pilot preview for Matthew Perry's "Go On" earlier in the week, the network aired a two-minute sneak peek for "The New Normal" on Friday evening.
The new Ryan Murphy comedy has already raised the ire of conservative group One Million Moms through its mere existence. It features gay couple David (Justin Bartha) and Bryan (Andrew Rannells), who are looking to start a family through a surrogate -- single mom Goldie (Georgina King). The series also stars Ellen Barkin as Goldie's bigoted grandmother Jane, Bebe Woods as Goldie's precocious daughter Shania, and NeNe Leakes as Bryan's outspoken assistant Rocky.
The preview asks, "what makes a family?" before presenting the show's main conceit and an increasingly common answer -- a mother and two dads (plus a grandmother that we could kind of take or leave). The HuffPost TV team was generally positive in our first impressions of "The New Normal," which premieres on Tuesday, September 11 at 9.30 p.m. ET on NBC. The network will also air the full pilot for "Animal Practice" after the Olympics closing ceremony on Sunday night.
Tell us: Will you watch "The New Normal"? What did you think of the extended preview?
Benjamin Stockham as Xander, Martha MacIsaac as Becca (seated), Bill Pullman as President Dale Gilchrist (seated), Amara Miller as Marigold, Josh Gad as Skip, Jenna Elfman as Emily Gilchrist (seated), Andre Holland as Marshall Malloy

Amara Miller as Marigold; Jenna Elfman as First Lady Emily Gilchrist; Bill Pullman as President Dale Gilchrist; Martha MacIsaac as Becca; Josh Gad as Skip; Benjamin Stockham as Xander

Allison Miller as Carrie, Khary Payton as Don, Suzy Nakamura as Yolanda, Matthew Perry as Ryan, Laura Benanti as Lauren, Julie White as Anne

Matthew Perry as Ryan King

Tracy Spiridakos as Charlie, Anna Lise Phillips as Maggie , Zak Orth as Aaron

JD Pardo as Nate, Tracy Spiridakos as Charlie, Zak Orth as Aaron, Anna Lise Phillips as Maggie

Billy Burke as Miles

Anna Lise Phillips as Maggie, Graham Rogers as Danny, Tim Guiee as Ben, David Lyons as Bass Monroe, Billy Burke as Miles, Tracy Spiridakos as Charlie, Andrea Roth as Rachel, Maria Howell as Grace, JD Pardo as Nate, Zak Orth as Aaron, Giancarlo Esposito as Lt. Neville

Ellen Barkin as Jane, Andrew Rannells as Bryan, Georgia King as Goldie, Bebe Wood as Shania, Justin Bartha as David

Bebe Wood as Shania; Andrew Rannells as Bryan; Justin Bartha as David; Georgia King as Goldie

Andrew Rannells as Bryan, Ellen Barkin as Jane, Nene Leakes as Rocky

Anne Heche as Beth

Anne Heche as Beth Waring

Heather Burns as Jenna, Alexandra Breckenridge as Carly, Michael Landes as Tom Waring, Anne Heche as Beth Waring, Madison Davenport as Emily Waring, Lamman Rucker as John

Teri Reeves as Hallie, David Eigenberg as Christopher Hermann, Charlie Barnett as Peter Mills, Lauren German as Leslie Shay, Monica Raymund as Gabriella Dawson, Taylor Kinney as Kelly Severide, Jesse Spencer as Matthew Casey, Eamonn Walker as Battalion Chief Walter Boden and Merle Dandridge as Kay Fitori

Meagan Good as Joanna Locasto

Meagan Good as Joanna Locasto

Meagan Good as Joanna Locasto, Victor Garber as Robert Bowers

Victor Garber as Robert Bowers, Meagan Good as Joanna Locasto, Katherine LaNasa as Sofia Bowers, Tate Donovan as Edward Bowers, Laz Alonso as Will Moreno

Anthony Anderson as Gary, Tempestt Bledsoe as Marny

Anthony Anderson as Gary, Jesse Bradford as Chris, Zach Cregger as Nick

Jamie Lynn Sigler as Emily, Zach Cregger as Nick, Tempestt Bledsoe as Marny, Anthony Anderson as Gary, Sara Rue as Sheila, Jesse Bradford as Chris