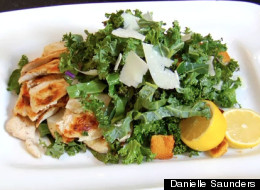 Chef Danielle worked her "Soul Fusion" magic into a yummy risotto jambalaya last week and while this week's creation -- a mixed kale and collard caesar salad -- would play nicely alongside it, the addition of grilled chicken and cornbread croutons make it a main course of its own.
Dark leafy greens -- a substitute for traditional romaine -- kick up this dish's nutrient profile (they're chock full of vitamins such as A, C and K) and may even send you into fall with a healthy, post-summer glow.
Watch how Chef Danielle makes it and get the full Mixed Kale and Collard Chicken Caesar Salad recipe here.