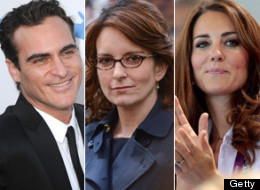 What better way to mark the glorious national celebration that is Shark Week than with a look at celebrity scars -- thank goodness, the following weren't caused by any serious "Jaws" moments.
From a lake dive gone wrong and a life-saving surgery to a car crash and a freak accident involving a spooked horse, these tough stars' experiences are permanent reminders of their past.
Check out the celebrity set's scars below:
"I love it because it makes me a person who has an interesting past, and it reminds me that I can survive any pain," Padma Lakshmi told Allure.

"Makeup artists are always trying to cover it up, but I don't want to hide it," Catherine Zeta-Jones says of her tracheotomy scar. "I wouldn't be here today if I didn't have this scar."

Sandra Bullock earned the scar above her left eye after falling into a lake and hitting her head on rock.

Joaquin Phoenix's upper lip scar is the result of what's called a microform cleft, a less severe or incomplete form of a cleft lip, which the actor was born with.

"I'd never cover it up," Queen Latifah told In Style of her scar. "It gives my face character."

Due to a 1961 tracheotomy, Elizabeth Taylor incurred a small scar on her chest.

"A fast car crash, a real mundane way of earning it," Harrison Ford explains of how he got the scar on his chin.

"I had a freak accident," Kaley Cuoco explained to Ellen DeGeneres. "It was the end of my lesson. I had been jumping all day ... At the end of the lesson my horse spooked and I wasn't really expecting it and I fell off. I was actually getting up but my horse was still kind of spooking. He was in the corner trying to get away from me. He leaped over me and landed on my leg."

"It's impossible to talk about it without somehow seemingly exploiting it," Tina Fey has said of the scar on the lower left side of her face.

Mary J. Blige has never spoken in an interview about the scar beneath her left eye.

Seal's facial scars are the result of a certain type of lupus, discoid lupus erythematosus.

Sharon Stone incurred her neck scar from a horseback-riding accident when she was a kid.

"I don't want to cover up my scars ... I'm not nervous about them at all. In fact, I think they're really cool," Giuliana Rancic says of her mastectomy scars.

"The scar is related to a childhood operation," a spokesman for the Duchess said in a statement.