Is there a better way to start your day than with a photo of Kim Kardashian on the beach?
As we all know, the 31-year-old reality star loves showing off her famous curves, and even more than that, she loves sharing photos of said curves with her adoring fans.
On Sunday night, Kim tweeted a photo of herself on the beach wearing a black swimsuit that has had us singing Sir Mix-A-Lot's "Baby Got Back" all morning long.
"Happy Sunday," she wrote along with the photo of herself frolicking on the beach for her 15.7 million followers. It clearly has been a busy summer for Kim, who has been posting a new sexy photo online just about every day.
PHOTO: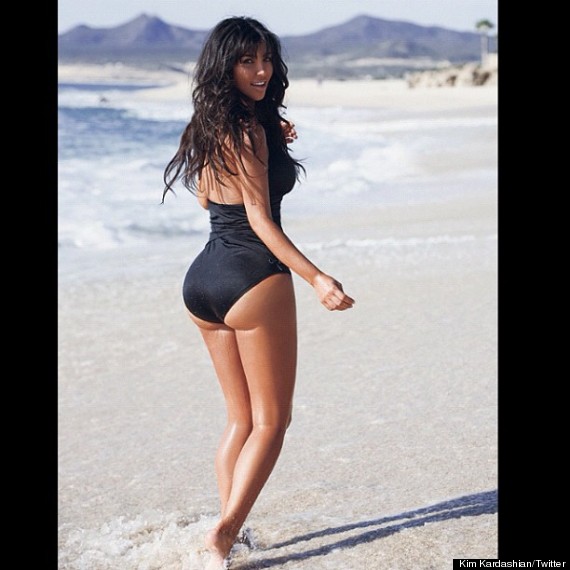 "I've said numerous times, 'I haven't had plastic surgery, I haven't had butt implants.' ... "Who the hell of a normal person gets butt implants?" ... "I'm so glad I did this x-ray. The whole world has been doubting me -- this is the best thing I could've done." -- Kim Kardashian on "Keeping Up With The Kardashians"

"Hey dolls. The PROOF is in the X-ray. Kim's ass is 100% real!!!" -- Khloe Kardashian on her Celebuzz blog.

"She hears what everyone says - even reading the smallest blogs out there - and listens. But you know what? Our family is Armenian, we all have big butts." -- Rob Kardashian to Details magazine.

"For a while now I've had this unsettling feeling... Like the universe was slightly out of whack. I couldn't pin-point the source of the feeling, but then it hit me: no one has really been saying much about Kim Kardashian's butt lately ... Unbeknownst to me, the entire world will not stop with the crack about her butt- its voracity, so to speak. Will an x-ray really help us get to the bottom of this world crisis? I'm thinking that we need some kind of control group." -- Anderson Cooper on CNN

"I see ridiculous stories about my butt, like how it has been insured ... I feel like saying, 'Hey, everyone has a butt. It's not that big a deal!' But I suppose it's flattering. Personally, I've always loved the curvy look. Even when I was a little girl and all my friends would be like, 'Oh, my god, your butt's so big.' And I'd say, 'I love it.'" -- Kim Kardashian to Cosmopolitan UK.

"Rumors don't bother me anymore ... I've read that I've had my lips done. I've always had big lips. Look at my baby pictures. It's ridiculous. Or they'll show one picture of me today and one tomorrow, and say I've had my nose done in between. When? Didn't you just see me yesterday? And how many times have I 'had my butt done'? People's logic is so weird. I don't know why they bother! You can't worry about all the gossip." -- Kim Kardashian to SELF Magazine

"I think he likes my lips ... And he likes, obviously, my butt." -- Kim Kardashian on what body part her fiance Kris Humphris likes most.

"There's constant interest in my bottom! The paparazzi always want 'butt' shots, girls come up to me and grab it, and people ask to squeeze it. I sometimes think: 'Everyone's got a butt, why do you care about mine?'" -- Kim Kardashian via StarPulse

"I don't get why everyone is always going on about my butt ... I'm Armenian. It's normal. My butt is probably not as big as you might think, because I have small legs and a small waist, which makes it appear bigger." -- Kim Kardashian to Harper's Bazaar.

"It's real and jiggly and I wish it was firmer." -- Kim Kardashian on "The Wendy Williams Show"