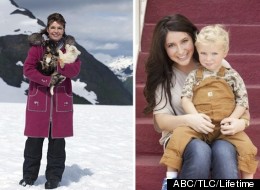 The Palin family is excited for Todd's appearance on "Stars Earn Stripes," the new NBC reality series based on real U.S. military challenges that premieres Monday, August 13 at 8 p.m. ET.
"Some of the missions that we were going through and the level of danger and the mental, emotion, and physical strain [were difficult]." Todd told Parade.com. "I knew that we were going to do some pretty gnarly stuff, but I didn't expect jumping out of helicopters!"
His wife and former vice presidential candidate Sarah said, "Todd's a hardcore, kick-butt athlete -- that's what a commercial fisherman is! All of the things he does in real life as a racer and a pilot came together very well for him as a competitor. I'm looking forward to watching it as a family."
Todd's participation on "Stars Earn Stripes" is far from the only time a member of the Palin family has turned up on reality TV in recent years. From "Sarah Palin's Alaska" to "Dancing with the Stars" to "Life's a Trip," click through the slideshow below to see the Palin family's most memorable reality TV appearances!
The Palins' Most Memorable Reality TV Moments
As one of the contestants on NBC's new reality show, "Stars Earn Stripes," Todd Palin, famous for snowmobiling and fishing, could be a frontrunner. In this sneak peek of the new show, which debuts Monday, August 13 at 8 p.m. ET on NBC, Chris Kyle, the deadliest sniper in United States military history, is pro Palin. "He's just straight up Rambo," Kyle says. "Next time I go to war I want Todd Palin by my side."

After Kate Gosselin and her eight got rid of Jon, they paid a visit to the Palins, their fellow TLC family, on "Sarah Palin's Alaska." The families went camping together and Kate proved she's not exactly a fan of the great outdoors.

On "Dancing With The Stars," Bristol Palin had plenty of haters and some harsh criticism from the judges. She wanted to prove she had personality and ability to have fun with this "Monkees" routine, which she forgot a bit of. Nothing says fun like a gorilla costume!

Some believe Bristol's toddler used a homophobic slur, while the teen mom claims it was f---. Nevertheless, when the four-year-old dropped some sort of f bomb on the Lifetime series "Life's A Tripp," it caused quite the controversy.

After weeks of hoping Sarah Palin would stop by the ballroom to see Bristol bust a move, the former vice presidential candidate made an appearance. But when she finally did, controversy arose yet again when it seemed like the audience booed her.

Since Bristol Palin famously got pregnant at 17, Sarah Palin was extra cautious with her younger daughter Willow. The baby gate she used for her son Trigg served not only to keep him from going upstairs, but to keep Willow's friend Andy out of her bedroom.

A fun mechanical bull riding outing turned sour when a bar patron called Bristol's mom a whore. The reality star and Stephen Hanks, the heckler, had it out in front of cameras. The altercation aired in the first episode of "Life's a Tripp." Hanks sued Bristol and Lifetime for defamation.

Sarah Palin never seemed to an animal lover, but when she went caribou hunting with her dad on "Sarah Palin's Alaska," everyone from PETA to Aaron Sorkin was up in arms. The vice president of PETA said in a statement: "Sarah seems to think that resorting to violence and blood and guts may lure people into watching her boring show, but the ratings remain as dead as the poor animals she shoots." The show was canceled after one season.

When Sarah Palin thought her daughter Bristol needed reconnect with her wild side, she and her husband Todd took her skeet shooting. Coincidentally, not too long after, a man was arrested for shooting his TV while watching Bristol on "Dancing With The Stars."