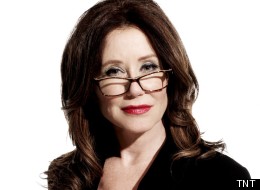 TV spinoffs are tricky. Sometimes audiences are clamoring for more of a show, making a second series a guaranteed success; other times, spinoffs just feel forced. Anyone remember watching "Golden Girls" try to recreate the magic on "The Golden Palace"? We rest our case.
We've rounded up all of the biggest successes and worst offenses in the spinoff world. Consider our list of the 30 best and worst TV spinoffs of all time a salute to the latest TV offshoot to grace the small screen, "Major Crimes" (premieres Mon., Aug. 13, 10 p.m. ET on TNT), which launches immediately after "The Closer" airs its series finale (9 p.m. ET).
Click through our gallery to take a walk down TV spinoff memory lane, reliving the very best and very worst (including some you'd probably forgotten about, then tell us where you think "Major Crimes" will rank in TV spinoff history.
Spinoff of: "Happy Days" Starring Penny Marshall and Cindy Williams, "Laverne And Shirley" saw seven years of ratings success and the two best friends skipping arm in arm. "Mork & Mindy" was another popular "Happy Days" spinoff, but didn't impact the world in quite the way "Laverne & Shirley" did.

Spinoff of: "Friends" Six friends equalled ratings dominance and an undeniable impact on television history, one friend equalled ... two subpar seasons and the temporary derailment of Matt LeBlanc's career. (Thank God for "Episodes.")

Spinoff of: "All In The Family" Arguably one of the best representations of race on TV, "The Jeffersons" was -- and still is -- a force to be reckoned with. Just ask anybody about iconic sitcoms and "The Jeffersons" will be in the Top 5.

Spinoff Of: "Party Of Five" Starring Jennifer Love Hewitt, "Time Of Your Life" centered on her character Sarah's life as she struggled to hunt down information on her biological mother in New York City. Despite the enticing premise, the show didn't even last one season -- seven episodes never aired at all.

Spinoff of: "Buffy the Vampire Slayer" Taking Angel away from Buffy was risky, but it paid off as viewers were treated to a new side of the vampire with a soul and his stellar supporting cast.

Spinoff of: "The Brady Bunch" "The Brady Bunch" has left a lasting impression on TV, but there's a reason why many of the spinoffs never stuck. Lighting doesn't strike twice, and as much as viewers loved Jan and Marsha, they didn't like when the Brady girls started their own bunches.

Spinoff of: "Law & Order" Of the many "Law & Order" spinoffs, "SVU" is been the most character-driven. The series lets viewers fall in love with the stoic detectives as the characters get too involved with the gritty cases.

Spinoff of: "Law & Order" They can't all be winners! "Criminal Intent" and "SVU" were very strong performers for the "L&O" franchise, but nothing tanked worse -- not even the awful "Trial By Jury" -- than this one, dubbed "LOLA." A three-month hiatus and major cast shake-ups, all in the first season, proved that "LOLA" was DOA.

Spinoff of: "Cheers" One of the most successful spinoffs in TV history, we first met Frasier Crane in the bar where everybody knows your name. Starring Kelsey Grammer, David Hyde Pierce, John Mahoney, Jane Leeves and Peri Gilpin, NBC's "Frasier" took home 37 primetime Emmys during its 11-year run.

Spinoff of: "Cheers" It's safe to say "The Tortellis" was no "Frasier." Starring Dan Hedaya, who played Carla's ex, and Jean Kasem as his new wife, the NBC spinoff aired from January to May 1987 and saw very low ratings.

Spinoff of: "Hercules: The Legendary Journeys" Easily eclipsing "Hercules," "Xena" took fandom to a whole new level. The series gave viewers two kick-butt women and all the subtext that was fit to film.

Spinoff of: "Baywatch" Mitch Buchannon, private eye? Who could've predicted that taking David Hasselhoff out of the red trunks and throwing in some science fiction wouldn't result in an instant hit?

Spinoff of: "Beavis and Butt-head" Originally conceived as a smart female foil for the juvenile Beavis and Butt-head, Daria became a comedic legend in her own right after moving to the fictional town of Lawndale to embark on solo adventures in 1997. The show ran for five seasons, spawning two TV movies and making the name "Daria" synonymous with acerbic, misanthropic comediennes. (You're welcome, Aubrey Plaza.)

Spinoff of: "Saved by the Bell" Shorter-lived than the other critically panned "SBTB" spinoff, "The New Class" (which inexplicably ran for seven seasons), "The College Years" followed all of our favorite Bayside High students (except Jessie and Lisa) to college, where they rehashed the original show's storylines for 19 episodes. Fans did finally get some closure for Zack and Kelly's off-and-on romance though -- the iconic couple decided to elope to Las Vegas before the show was canceled.

Spinoff of: "Beverly Hills, 90210" Hunky Mr. Fix-It Jake (Grant Show) could've just been another sexy distraction in TV's hottest zip code; but instead, we got to follow him to his West Hollywood apartment complex for this spinoff that served up juicy scandals for seven seasons.

Spinoff of: "Melrose Place" The third time was not the charm for the "Beverly Hills, 90210" universe. Despite the presence of "Dallas" star Linda Gray and the promise of sexy models in sexy situations, no one tuned in to watch, and the show was canceled after the first season.

Spinoff of: "The Tracey Ullman Show" The 23 (soon to be 24) seasons, 27 primetime Emmys, worldwide notoriety and a star on the Hollywood Walk of Fame are pretty indicative of the show's success -- it's currently the longest-running show ever on television. Try to make it through one day without hearing a "Simpsons" reference. We challenge you.

Spinoff of: "The X-Files" Sometimes, when you take periphery characters and try to build an entire show around them, it works (see: "Angel"), and other times it just flops. Conspiracy show "The Lone Gunmen" falls into the latter category. Despite positive critical reviews, the ratings plummeted after a semi-solid pilot (which eerily foreshadowed the events of 9/11), and the show was canned after 13 episodes.

Spinoff of: "Dallas" After the success of "Dallas," creator David Jacobs decided to try his hand at another primetime soap based on the lives of four married couples and a whole lot of drama. The bet paid off -- the series ended up airing for 14 seasons!

Spinoff of: "Star Trek" For the first time ever in the "Star Trek" franchise, a female captain (Kate Mulgrew as Kathryn Janeway) helmed a Starfleet vessel. Some speculate that this hurt the show, driving away the typically male "Trek" fans. Critically, it's viewed as one of the least-popular series of the "Trek" universe, though it still managed to last seven seasons.

Spinoff of: "The Mary Tyler Moore Show" Sidekicks deserve their time to shine, too! Rhoda Morgenstern (Valerine Harper) got her own spinoff after playing Mary's outspoken, weight-conscious, fashionable Bronx-born neighbor and nearest and dearest friend for four seasons. "Rhoda" went on to break TV records, earn Emmys and last for five seasons in the late '70s.

Spinoff of: "Bones" Introduced as a backdoor pilot during Season 6 of "Bones," it was the spinoff no one had asked for with a character nobody cared about. Charismatic Geoff Stults proved he could find many things during the show's 13 episodes, but ratings success wasn't one of them.

Spinoff of: "JAG" "NCIS" viewers were introduced to NCIS Special Agent Gibbs (Mark Harmon) and his colleague Tony DiNozzo (Michael Weatherly) in a two-part episode of Season 8 of CBS' "JAG." "JAG" lasted two more seasons and "NCIS" is going into its 10th season as well, having already spawned another spinoff, "NCIS: LA."

Spinoff of: "General Hospital" Despite the fact that the "General Hospital" spinoff lasted more than six years, "Port Charles" -- which took "GH" characters Lucy Coe, Kevin Collins, Scott Baldwin and Karen Wexler -- broke all the TV soap rules, and not for the better. It dropped the open-ended writing style of other daytime dramas and spent way too much time in the hospital.

Spinoff of: "Diff'rent Strokes" Following Charlotte Rae's Mrs. Garrett, the one-time live-in housekeeper for the Drummonds, to her new gig at an all-girls boarding school, "The Facts of Life" took the good, took the bad, took them both and there we had one of TV's greatest spinoffs.

Spinoff of: "Battlestar Galactica" Where "Battlestar Galactica" was genius in terms of its dark writing and terrific acting, "Caprica" was a tough slog through a mire of extraneous, uncharismatic characters and endless probing dialogue. "BSG" fans dropped off as they grew tired of waiting for something to happen, and the show was ultimately canceled due to low ratings; it only lasted a season-and-a-half before it was unceremoniously yanked.

Spinoff of: "The Practice" David E. Kelley is at his best when there's a hint (or more) of absurdity in his legal dramedies. This spin-off of the comparatively somber "The Practice" veered more into "Ally McBeal" territory -- and beyond -- with the addition of Denny Crane (William Shatner) as the perfect partner-in-crime for Alan Shore (James Spader).

Spinoff of: "Happy Days" Though everyone loved Joanie (Erin Moran) and Chachi (Scott Baio) on "Happy Days," very few loved them on "Joanie Loves Chachi." The series followed the TV couple as they moved to Chicago and tried to make it in the music industry. But the musical factor was far from harmonious and without Richie, Fonzi and the rest of the "Happy Days" gang, it just wasn't the same.

Spinoff of: "The Cosby Show" Launched as a vehicle for Huxtable daughter Denise (Lisa Bonet) as she went off to college, the supporting players -- including Southern belle Whitley Gilbert (Jasmine Guy) and sunglass-flipping Dwayne Wayne (Kadeem Hardison) -- carried the series for six seasons, long after Denise left.

Spinoff of: "The Golden Girls" After Dorothy (Bea Arthur) married and the gals sold their home in the "Golden Girls" finale, this spinoff picked up with Rose (Betty White), Sophia (Estelle Getty) and Blanche (Rue McClanahan) buying a run-down Miami hotel to run. A thin premise, at best -- even the jazzed up theme song and presence of a young Don Cheadle couldn't get this dud a second season.