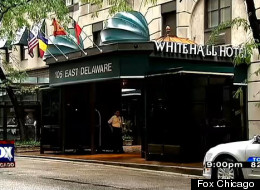 A 22-year-old Dallas woman died Monday after being shot inside her room in a popular high-end hotel in Chicago's Gold Coast neighborhood.
Brianna Gardner was identified by the Cook County Medical Examiner's office as the woman found fatally shot in the head inside her room at the Whitehall Hotel Monday morning, ABC Chicago reports.
Gardner's death was previously ruled a homicide.
Housekeeping staff of the hotel discovered Gardner's body inside her seventh-floor room, according to the Chicago Sun-Times. At least one guest near the room where Gardner was staying reported hearing something that sounded like a gunshot around 3:30 a.m. Monday, the Chicago Tribune reports.
No arrests have been made in the fatal shooting as of Tuesday morning and a police investigation is ongoing. The hotel has declined to comment on the incident.