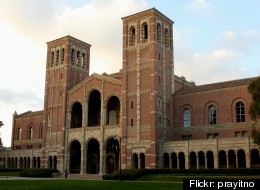 For parents concerned about the rising cost of college, financial advisers have traditionally recommended public universities. After all, they almost always carry much smaller price tags than private universities. But many of these state schools are now raising tuition at double-digit rates -- sometimes with very little advance notice -- leaving some students and their families in a tight financial bind.
In some states, recent changes have been particularly dramatic. Average tuition and fees for in-state residents at public four-year colleges soared 16% to 21% last year in Arizona, California, Georgia and Washington, according to a report released last week by the College Board. (The average increase at public colleges over the same period was 8.3%; none of the figures in the report were adjusted for inflation.) What's more, students in some of those states may see more hikes in the upcoming year: Washington recently approved a tuition increase at several of its public universities, while California students may face another double-digit increase in the second semester of this academic year. "The potential for this to get worse is very real," says Rich Williams, higher education advocate at U.S. Public Interest Research Group.
RELATED: College: Best Investment or Big Risk?
At most public colleges, increases in tuition mirror cutbacks in state spending. Nationwide, these institutions saw a 7.5% reduction in state funding on average during the 2011-12 school year from the year prior, according to the College Board. State support and tuition are the two largest revenue sources for public colleges, and when the former drops, the burden is often shifted to payers of the latter. The upshot of recent cuts is that public tuition overall has been rising almost twice as fast as costs at private colleges in recent years. For in-state residents at four-year public schools, tuition and fees are up 25.1% from the 2008-09 academic year; over the same time period, tuition and fees at private universities rose 13.2%.
RELATED: The Jobless Class of 2012
Complicating matters for families with children in public colleges is that the amount they're supposed to pay isn't always known in advance. Many states don't determine their budget until the summer, and if they decide to reduce academic funding, it can lead to last-minute hikes. Some public colleges have increased their prices a few weeks before classes start, while others are considering midyear hikes.
RELATED: Strange New Ways to Pay for College
To be sure, despite the hikes, public universities are still a lot cheaper than private universities, at least for in-state students. Resident tuition and fees at public four-year colleges averaged $8,244 in 2011-12, while private nonprofit universities averaged more than three times as much. And when public colleges raise tuition, they often give out more in free aid, like grants and scholarships, says Daniel Hurley, director of state relations and policy analysis at the American Association of State Colleges and Universities.
Out-of-state students at public colleges may face steeper challenges. Their tuition and fees averaged $20,770 during 2011-12, compared with $28,500 for the average nonprofit private school. Some public schools charge a lot more: The University of California charged up to about $36,700 in tuition and fees for students from out of state. As state support falls, public colleges are increasing recruitment of these students because they pay more, says Hurley. And out-of-state students with less-than-stellar grades are less likely to get financial aid, he says.
Here are the five states where the cost of a public four-year college education has seen the steepest recent increases.
5 States Where Tuition Is Rising
Average tuition and fees for in-state student: $9,022 in 2011-12 Increased: 20.5% from a year prior and 98.3% from five years prior The worst could be yet to come for students in California's public universities. If California residents vote against state tax increases in the November elections, the school system will have to come up with money fast to fill the $375 million budget gap that would ensue, says Dianne Klein, a spokeswoman for the University of California's Office of the President, which is the headquarters for the 10 UC campuses. Under that scenario, tuition could rise 20.3% for the second semester of the upcoming academic year. Much of California's growing college-cost burden has been placed on out-of-state students. The 10 most expensive campuses for out-of-state students in the U.S. are all in California, where tuition, fees, room and board in total ran up to roughly $51,000 last year, according to the Chronicle for Higher Education. Klein says that despite the rising costs, overall applications to the UC system are going up; she also says that because of the system's financial aid programs, about half of all UC undergrads pay no tuition.

Average tuition and fees for in-state student: $9,428 in 2011-12 Increased: 16.8% from a year prior and 101.7% from five years prior Since 2008, Arizona's public universities have laid off faculty and staff and eliminated academic programs in order to make ends meet. This year, state funding will total $708 million, compared with nearly $1.1 billion for the 2007-08 academic year, says Katie Paquet, spokeswoman for the Arizona Board of Regents. As tuition costs have risen, the largest universities in the state have rolled out lower-cost ways that students can attain a Bachelor's degree. This fall, Arizona State University will open a new campus in Lake Havasu City, where annual tuition for state residents will cost $6,000, nearly 40% less than at its campus in Tempe. Also, Arizona's largest universities -- ASU, University of Arizona and Northern Arizona University -- are offering students who transfer from community colleges a lower-cost way to complete their Bachelor's degree; in some cases, students will be charged the cost of tuition during their freshman year in community college rather than the tuition the four-year school charges when they enter it. "Our goal is to provide more options to students across the state at varying price points," says Paquet. Separately, for the first time in two decades, Arizona State University and the University of Arizona have frozen tuition for in-state undergraduate students for the upcoming academic year. Tuition for out-of-state students will rise by roughly 3%.

Average tuition and fees for in-state student: $6,808 in 2011-12 Increased: 15.9% from a year prior and 74.2% from five years prior Beyond tuition hikes, Georgia college students are also facing cutbacks to a popular state scholarship program. Last year, the state reduced the amount of money it doled out to students through its merit-based Hope Scholarship, amid concerns that the program was underfunded. The program, which used to cover 100% of tuition costs at the state's public colleges for qualifying students, covered roughly 87% last year; this year, as tuition continues to rise, the scholarship will cover 81% to 85% of costs in the university system. The state is also looking at cutting direct funding to higher education. Georgia Governor Nathan Deal recently proposed a $54 million cut through June 2014, which if enacted would reduce spending over that period to roughly $1.7 billion. A decision is expected early next year. John Millsaps, spokesman for the University System of Georgia, says public institutions have had to shift much of the cost burden onto students as state funding dwindles. Over the past seven years, state funding went from covering 75% of the cost of educating students to 50%, he says.

Average tuition and fees for in-state student: $9,484 in 2011-12 Increased: 15.7% from a year prior and 67.3% from five years prior Unlike most states, Washington doesn't have an individual income tax; instead, it relies on sales taxes for much of its revenue. Income from that source slumped during the recession, leaving the state with less money to go around. To make up for the shortfall, the state granted permissions to its public universities to raise tuition, and students have felt the impact: Six years ago, it cost roughly $5,700 on average for an in-state student to attend a public college in Washington. That's hovering around $10,000 this year. In June, the University of Washington announced a 16% increase in tuition and fees for the upcoming year, following a 20% increase last year. The state is covering just 30% of the cost of educating its students, the lowest share ever, says Norm Arkans, a spokesman for the University of Washington. He says the institution's relatively low tuition and fees provided some leeway to raise costs, but adds that the strategy isn't sustainable in the long term.

Average tuition and fees for in-state student: $6,044 in 2011-12 Increased: 13.7% from a year prior and 65.8% from five years prior Few students have been immune to tuition spikes in Nevada. During the five academic years ending this past spring, Nevada raised tuition and fees at its community colleges by 48% on average, one of the highest increases in the country, according to the College Board. Costs at four-year public colleges rose 66% over the same period. And midway through the last academic year, the state approved an 8% tuition increase for all undergrads, which will kick in this fall. Still, despite the increases, the cost to attend a public college in Nevada remains lower than the national average, says Dan Klaich, chancellor of the Nevada System of Higher Education.