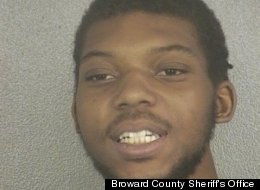 A North Lauderdale teenager was arrested Thursday night and held in lieu of bail after allegedly groping a Walmart customer's buttocks outside a dressing room at the 7300 W. McNab Road superstore in Florida.
Aaron L. Morris, 18, "willfully and intentionally grabbed the victim's right buttocks against her will," according to a police report obtained by The Smoking Gun.
Morris allegedly fled the store but was soon picked up by police at a nearby RaceTrac gas station, where the victim identified him, the Sun Sentinel reports.
Morris copped to the feel during questioning, according to the report. After the arresting officer read him his rights, Morris explained he had touched the woman because, "Her booty looked so good, I just couldn't resist touching it."
Morris is being charged with a misdemeanor in the incident.
The teen should be glad he didn't suffer the same fate as the man who allegedly grabbed a woman's buttocks on the L train in New York City in July.
The woman chased her attacker onto a train, where passengers dragged him out onto the platform, and held him until authorities arrived, according to the New York Daily News. The incident was also recorded on bystander's cellphone.
And of course, who could forget the case of martial arts expert Priscilla Dang, who turned the tables on her two teenage attackers in Vancouver in June?
Dang, a kung fu expert, got in several good punches before both boys fled the scene.
"I think they knew they messed with the wrong girl," Dang told KATU.
Nightmares That Involve Walmart
A Walmart in Florida complained to police of a "flash mob situation" after a school choir sang "God Bless America" in memorial of the Septemeber 11th, 2001 attacks, the Sun-Sentinel reports.

Julian R. Call, 22, and Tina F. Gianakon, 35, were arrested for engaging in sexual activity in front of fellow shoppers at a Kansas Walmart after stealing K-Y Jelly.

Netherlands' biggest pension fund -- it holds over $300 billion in assets -- pulled its investments from Walmart for not abiding with the United Nations' Global Compact principles, which relate to human rights, labor standards, the environment and anti-corruption efforts.

When Walmart senior executives found out that Walmart de Mexico had allegedly been involved in a bribery campaign to open new stores, they then allegedly covered it up.

A Mormon assistant manager at Walmart, who had been observing the Sabbath as an employee for more than ten years, faced disciplinary action after a change in their scheduling rules no longer accommodated his observance.

Jose Marcos Picazo suspiciously died after Walmart security guards in California arrested him for alleged shoplifting.

Walmart was involved in a lobbying campaign to weaken the Foreign Corrupt Practices Act, which was meant to reduce liability for bribing foreign officials.

Walmart has been involved in a number of ongoing lawsuits for discrimination against female employees. Some of the allegations have included derogatory language at the workplace, unfair promotion practices and pay discrimination.

A woman wanted cheap Black Friday deals on Walmart electronics so badly that she used pepper spray on a crowd at a Los Angeles Walmart. Twenty people were injured.

Warehouse workers in California sued a contractor that works with Walmart for labor law violations, including poor labor conditions, shortchanging pay and threatening to fire them for complaining about anything.

New York City public advocate Bill de Blasio recently launched 6degreesofwalmart.com to expose Walmart secret political spending, meant to influence the political process in a number of ways, including reducing protection for workers, whistleblowers and the environment.

A Walmart employee at a distribution center in Virginia shot and wounded his female supervisor right before he killed himself.