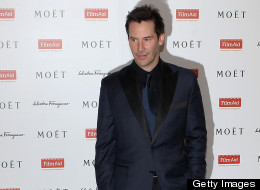 If it feels like "47 Ronin" has been on the cusp of a release for the better part of six months, that's because it has: The Keanu Reeves film was initially set to arrive in theaters on Nov. 21, but was pushed back to Feb. 8, 2013 earlier this year. On Wednesday, Universal Pictures delayed the film again, this time to Dec. 25, 2013, a full thirteen months after it was supposed to be in theaters.
The given reason for the delay is that some reshoots and effects work still need to be completed -- "47 Ronin" will be released in 3D -- but many industry watchers have speculated that other issues are at play. Variety reporter Jeff Sneider wrote as much on Twitter:
@TheInSneider

Jeff Sneider
I don't want to pile on 47 RONIN b/c Universal already doesn't like me but if I published the rumors I've heard they would blow your mind...
THR reporter Borys Kit also alluded to some more egregious behind-the-scenes issues.
@Borys_Kit

Borys Kit
One reason for the 47 Ronin pushback: It's slated to begin 3 weeks of shooting starting next week. 3 weeks is not "a bit," btw.
With "47 Ronin" moving to Dec. 25, 2013, Universal has an opening on the calendar for Feb. 8, 2013. To fill the void, the studio bumped up Seth Gordon's new comedy "Identity Theft" to the date. That film stars Jason Bateman and Melissa McCarthy.
Reeves can be seen in the documentary "Side By Side," out in limited release this week with a nationwide VOD release to follow.
For more on "47 Ronin," head over to the Los Angeles Times.
RELATED