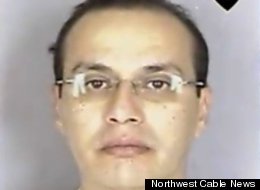 An Oregon priest faces first degree sexual abuse charges after being accused of fondling a 12-year-old boy Sunday night.
Investigators said that Father Angel Armando Perez, 46, invited the victim over to his house for a sleepover. Around midnight, the boy was awakened by flashes. When he opened his eyes, he claimed his underwear was pulled down to his knees and that Perez was fondling him with one hand and holding a cellphone in the other, Northwest Cable News reported.
Perez, pastor of St. Luke Catholic Church in Woodburn, was charged with sexual abuse, abuse of a child in the display of sexually explicit conduct, furnishing alcohol to a minor and DUI.
Police say the victim ran out of the house and down the street looking for help from James Curths and his sister-in-law, Heather Rodriguez.
Curths told the Oregonion that the child was out of breath, but begged for help because a man was chasing him. He and Rodriguez got ready to drive the boy to relatives when a man later identified as Perez ran over, wearing only his underwear.
GALLERY: PRIEST ABUSE SCANDALS (Story continues below)
Paulish, a Catholic priest, was charged with molesting a 15-year-old boy after police say he was "caught in the act." The 56-year-old priest was found in a car with the pantless boy on the campus of Penn State University. Read more

FILE - This undated file image provided by State of California Department of Justice shows former priest and convicted sex offender, Robert Van Handel, who was molested as a student at St Anthony's seminary school and then returned there as a priest where he molested boys in the choir. (AP Photo/California Department of Justice, File)

FILE - In a Tuesday, March 27, 2012 file photo, Monsignor William Lynn leaves the Criminal Justice Center, in Philadelphia. Lynn, accused of moving predator-priests to unwitting parishes, testified Wednesday, May 23, 2012 that he had no authority to make priest transfers. Lynn says he could only remove a priest who admitted abusing a minor. Lynn says he otherwise made recommendations for the cardinal. Lynn is testifying in the ninth week of his child-endangerment and conspiracy trial. (AP Photo/Alex Brandon, File)

The Rev. James Brennan allegedly molested a 14-year-old boy in 1996. The accuser testified in court that the sexual abuse led to drug addition, mental illness, crime and suicide attempts.

The late Cardinal Anthony J. Bevilacqua ordered aides to destroy a list with the names of priests accused of sexual abuse, according to church documents revealed during the trial of Philadelphia's Monsignor William Lynn.

This Nov. 18, 2010 photo provided by the Dallas County Sheriff's Department shows John Fiala. Fiala, a former Roman Catholic priest charged with sexually abusing a teenage boy in 2008 in his rural Texas parish is now accused of plotting the alleged victim's murder, authorities said. Fiala was found guilty of the plot in May of 2012. (AP Photo/Dallas County Sheriff's Department)
"He was staring at us," Rodriguez told the paper. "Then he stood there with his hands on his hips like, 'You're really not going to give him to me?'"
After Rodriguez and Curths told the man they were calling the police, he jogged away.
When the victim got home, he told his family, "Father Perez touched me in the privates." They reported the incident to the police, according to the Statesman-Journal.
Around 2 a.m., Monday, Perez came to the boy's house to talk to the boy's mother and brother, according to a probable cause report.
The victim's brother told police that Perez smelled of booze and appeared intoxicated and that his first statement was, "I am very sorry. I made a mistake," and later added, "I didn't mean to hurt" the child.
The affidavit also claimed that Perez told the boy: "I am just one who serves in the church, and I have sinned; don't stop believing in the church."
Perez's next court appearance is scheduled for Aug. 20.