If Miley Cyrus' drastic haircut taught us anything, it's that you really can't please everyone. After chopping off her hair into a pixie, the actress received quite the Twitter backlash.
Don't think these social media naysayers got Miley down though -- the 19-year-old hit back with plenty of self-affirming tweets of her own (i.e. "self love is the greatest of all flatterers."). But the most significant Twitter support came from none other than funny woman Ellen DeGeneres. Who knew Ellen was so invested in Miley's new 'do?
The television host posted a photo of herself with Miley's controversial look (courtesy of Photoshop) and tweeted, "I love @MileyCyrus' new haircut so much that I copied it." Very cute, Ellen. And since the cropped cut isn't a far cry from the 54-year-old's normal look, we have to say that it kind of suits her. And so do all of the positive vibes. As for Miley, we just want to tell her: Hater's gonna hate, so keep rocking the look!
See the photo of Ellen trying out Miley's hairstyle and the photo that inspired it below.
PHOTOS:
I love @mileycyrus' new haircut so much that I copied it.say.ly/IuV3YwD

— Ellen DeGeneres (@TheEllenShow) August 14, 2012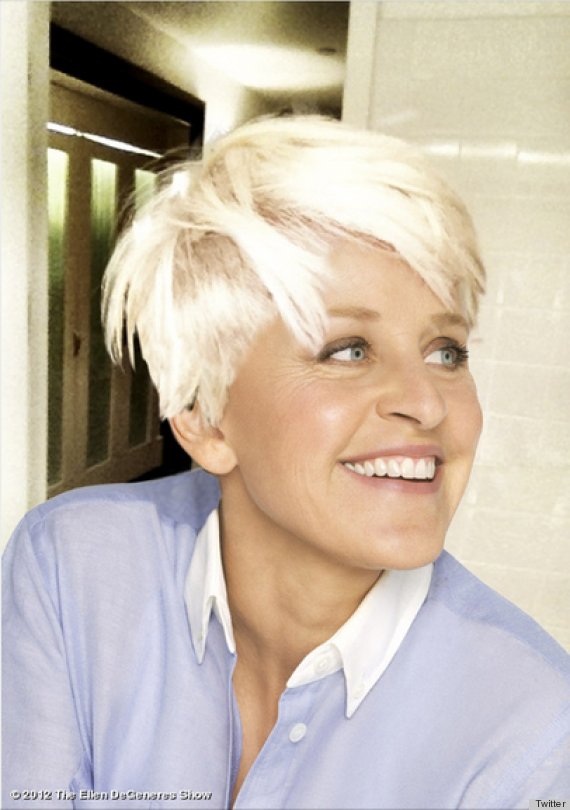 💣💣💣💣 twitter.com/MileyCyrus/sta…

— Miley Ray Cyrus (@MileyCyrus) August 13, 2012
See some more celebrities with long vs. short hair... which look suits them best?

Loading Slideshow
Miley Cyrus

Rihanna

Jennifer Connelly

Hayden Panettiere

Heidi Klum

Sarah Jessica Parker

Jennifer Aniston

Victoria Beckham

Kelly Rowland

Kirsten Dunst

Kristen Stewart

Janet Jackson

Mena Suvari

Cheryl Cole

Keira Knightley

Carey Mulligan

Kate Moss

Rachel McAdams

Elisha Cuthbert

Ginnifer Goodwin

Halle Berry

Katie Holmes

Mia Wasikowska

Michelle Williams

Natalie Portman

Selma Blair

Sienna Miller

Emma Watson

Anne Hathaway

Leighton Meester

Winona Ryder

Stars Who Rock a Short 'Do

As Paris Jackson posts a picture of herself with a dramatic shorter do on Twitter, we check out some other stars who rock a pixie cut.
Want more? Be sure to check out HuffPost Style on Twitter, Facebook, Tumblr and Pinterest.