Savannah Guthrie stepped into Ann Curry's role on the "Today" show in July and turned out to be a more sartorially toned down replacement. Her affinity for simple, monochromatic sheaths were certainly a departure from the bold prints and colors that earned the former host the nickname "Toucan Sam." But today's program showed us that Savannah's pared-down strategy isn't always fool-proof.
While introducing Carrie Underwood, the news anchor wore an uncharacteristically bright peach dress (no complaints there -- the color was gorgeous on her). We did take issue, however, with the awkwardly-placed zipper pockets down the front of her torso. Now why would anyone want to draw attention to that part of their body?
Of course Savannah has nothing to be insecure about, but we just don't think this kind of dress would be our first choice for a television appearance. And while we definitely miss Ann Curry's funkier looks, we suppose Savannah does have a more... palatable sense of style for a national audience (even though the always center-parted hair is becoming a bit of a snooze fest). For the record, we do realize that we may just be nitpicking here. What do you think of Savannah's dress today?
PHOTO: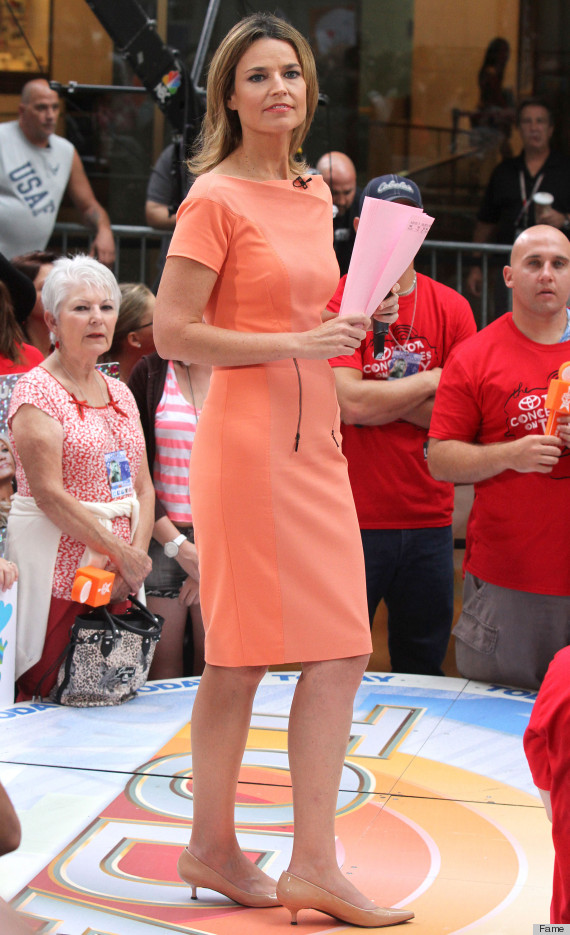 See more of Savannah's on-air style!
Savannah Guthrie's On-Air Style
(AP photo)

(AP photo)

(AP photo)

As Prince Charles in "Today"'s Royal Wedding reenactment. (Getty photo)

(Getty photo)

(Getty photo)

One hundred days stand between the world and the 2012 Olympic games, making Savannah Guthrie hungry for some hurdles this morning on "Today." She called her first attempt "embarrassing," and mid-way through her second attempt, end up just crawling through. The 2012 Olympic Games are set to air on July 27 with hosts Bob Costas, Matt Lauer and Meredith Viera on NBC.
Want more? Be sure to check out HuffPost Style on Twitter, Facebook, Tumblr and Pinterest.