You know how it is? You're just chilling on your yacht, dog-earing pages of the new Neiman Marcus catalog, when your second wife's third cousin Kevbert from Atlantaham calls up and announces he's "Bringin' the whole crew up to that boat y'all got up there for Labor Day weekend... y'all don't mind, right?"
What else can you do but try to give your fancypants sea vessel a little more downhome appeal? Thankfully, Freestyle Cruiser has got you covered: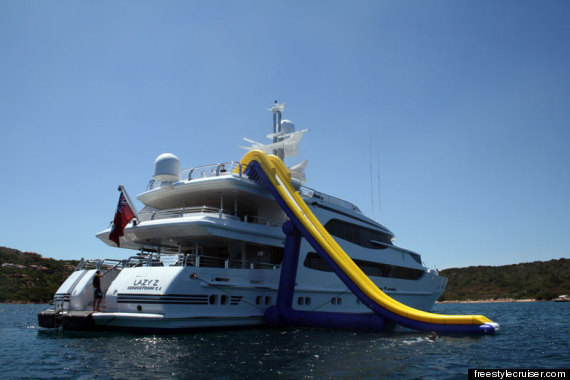 Also on HuffPost:
Loading Slideshow
Inflatable Walk On Water Mat: $999.95

Just another reminder that if you're rich, you can literally play God.

Human Bowling Ball: $4,500

If they remade "Billy Madison" in 2012, we could definitely see this in his backyard.

The Killer Whale Submarine: $100,000

A two-person watercraft that "breaches and submerges just like the <em>Orcinus orca</em> after which it is designed," according to the description. In other words: "midlife crisis."

Inflatable Obstacle Course: $12,500

Perfect training for the inflatable military.

The Floating Rope Swing: $3,800

Who needs a tree with a sturdy branch when you can have this floating island of fun?

The Flying Hovercraft: $190,000

You could send a few kids to college, go on about 50 tropical vacations or, you know, buy this for $200 grand. Your call.

Electric Skates: $699.99

How about this $700 concussion waiting to happen?

Stock Car Racing Simulator: $60,000

We see your race car bed and raise you THIS.

Personalized Whac-A-Mole Game: $35,000

The fact that there's <a href="http://www.hammacher.com/Product/Default.aspx?sku=11258&promo=Toys-Games-Arcade-Rec-Room&catid=248" target="_hplink">a box next to the price of this item</a> that asks, "How Many?" may be the funniest thing about it.

Classic Snow Cone Cart: $4,000

This thing produces "up to 500 lbs. of finely granulated ice per hour." We'll just let that sink in.

Inflatable Water Park: $7,999.99

We love how <a href="http://www.sharperimage.com/si/view/product/Inflatable-Water-Park/200800?cm_mmc=ymal-_-200800-_-null-_-null" target="_hplink">the description of this item</a> starts, "Move over, old-school floating platforms," as if anyone doesn't think those are still awesome.

Barbecue Dining Boat: $50,000

Smug expression not included.

iPod Jukebox: $1,495.99

Makes that alarm clock dock grandma got you for Christmas look like crap.

Motorized Monocycle: $13,000

If you've ever seen a hamster in a hamster ball and thought, "Why not me?" Now is your chance.

Personalized Backyard Ice Rink: $699.99

Wayne and Garth could have NEVER afforded this.

Mustang Pool Table: $9,995

This is a great way to remind yourself of your wealth while you're playing pool in your custom game room... in your house.

Pac-Man Cocktail Table: $3,500

There's no way this thing takes quarters.

The Light Cycle: $50,000

It's a street-legal motorcycle but only designed for "casual cruising and slow ride-bys." So, dream on "Tron" nerds.

Large Chess Pieces: $599.99

In five minutes those kids are going to turn those chess pieces into over-priced whiffle ball bats.

The Skier-Controlled Tow Boat: $17,000

For when you have all the money in the world but no friends to drive your speed boat.

Continuous Practice Golf Course: $799.95

No matter how continuous this golf course is, it's still probably a bad idea to put it in front of a glass window.