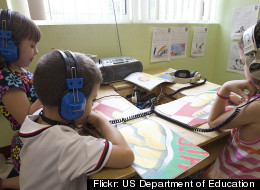 Earlier this month, Governor Pat Quinn of Illinois signed new legislation designed to strengthen the state's bilingual education programs into law.
HB-3819 requires the state's Advisory Council to evaluate the success of bilingual programs and explore the benefits and possibilities of "parent academies," an initiative to increase the participation of parents whose first language is not English in the lives of their students.
"Understanding that language is really the window to understanding another culture," said Governor Pat Quinn after signing the legislation at Chicago's Inter-American Magnet School. "We do not want to be tongue-tied americans, we want to make sure we understand language as much as we can, not only the English language, but the Spanish language."
Watch Quinn announce the new law in the video above.
The bill was unanimously passed and sponsored by Representative Linda Chapa Lavia (D-Aurora) and Senator Iris Martinez (D-Chicago).
By 2009, 35 million U.S. residents over the age of 5 spoke Spanish at home, according to a Census Bureau survey. The Bureau also ranked the U.S. as having the second largest Hispanic population in the world in 2010 with 50.5 million individuals. As those numbers grow, so does bilingualism.
Initiatives like Illinois' HB-3819 are perhaps a response to research connecting improved brain function to bilingualism. In a 2011 interview with The New York Times, cognitive neuroscientist Ellen Bialystok stated that acquiring fluency in a second language can help with anything from improving multitasking to delaying symptoms of Alzheimer's disease.
"As we did our research, you could see there was a big difference in the way monolingual and bilingual children processed language," Bialystok said. "The bilinguals, we found, manifested a cognitive system with the ability to attend to important information and ignore the less important."
In response to the new law, Monica Olivera of NBC Latino asked "Will Illinois lead the country in bilingual education?" In 2010, the state was the first to require bilingual preschool programs.
"The goal of preschool is to prepare your child for academic success in kindergarten and beyond," Olivera wrote. "Too many of our children are starting kindergarten already behind, and some never catch up. English Language Learners especially struggle academically, and according to the 2011 Illinois State Report Card, only 67 percent of them graduate from high school."
Learn more about the U.S. Hispanic population:
Hispanic Populations In The U.S.
The nation's highest Latino population comprises 31,798,000 immigrants. The Los Angeles-Long Beach area has the nation's highest number of Mexican immigrants, with 4,569,000, although other large concentrations are found in the Chicago metro area and throughout Texas.

The second-largest Hispanic group in the country, Puerto Ricans make up a population of 4,624,000. The nation's largest concentration (1,192,000 people) is situated in the New York-northeastern New Jersey area.

The U.S. is home to approximately 1,786,000 Cuban immigrants. Many are concentrated in Miami (784,000, to be exact) as well as the Fort Lauderdale (84,000) and Tampa-St. Petersburg areas (81,000), although the New York/New Jersey area's population (130,000) is considerable, too.

Pockets of the nation's considerable Salvadorian population (1,649,000) exist on both coasts. Los Angeles and Long Beach are home to 414,000 Salvadorians; 240,000 live in Washington, D.C., and 187,000 call the New York metro area home.

Nearly half of the nation's Dominican population (1,415,000) happen to like New York -- 799,000 call it home. Other sizable pockets include the Boston/New Hampshire region (86,000) and Miami (59,000).

The U.S. is home to 1,044,000 Guatemalans, with 249,000 of those residing in the Los Angeles metro area. Meanwhile, 85,000 live in the New York metro area, with another 53,000 residing near Washington, D.C.

Colombian immigrants account for 909,000 U.S. citizens. Of that, 119,000 live in Miami, and another 65,000 call Fort Lauderdale home.

Some 633,000 U.S. residents identify as being of Honduran origin. Of that, 66,000 reside in the Houston-Brazoria, Texas, area.

A total of 565,000 people in the U.S. are of Ecuadorian origin. According to 2009 statistics, two thirds of the population (or 64 percent) live in the Northeast, with 41 percent living in New York.

Compared to other Hispanic groups, the Peruvian population (533,000) is considerably more geographically dispersed. About 19 percent of the population lives in Florida, while 12 percent resides in New York. Another 16 percent reside either in California or New Jersey.