Anderson Cooper's new Instagram account is already a thing of beauty. The CNN personality has already posted photos with Beyonce, snaps of cool sunsets and amazing selfies.
On Wednesday, Cooper posted this snap of himself and the lovely Kelly Ripa. Ripa, 41, who recently confessed that she uses Botox "as much as possible," is all smiles and makeup-free, showing off her beautiful skin and her blonde hair. Husband Mark was also along for the ride, popping up in another pic. (The trio appears to be on vacation together in Croatia.)
Who knew Kelly and Anderson were besties? One Twitter user asks if the pair are dating, but somehow we doubt it.
Scroll down for pics!
PHOTOS:
Just posted a photo instagr.am/p/OWbWGeEkJ_/

— Anderson Cooper (@andersoncooper) August 15, 2012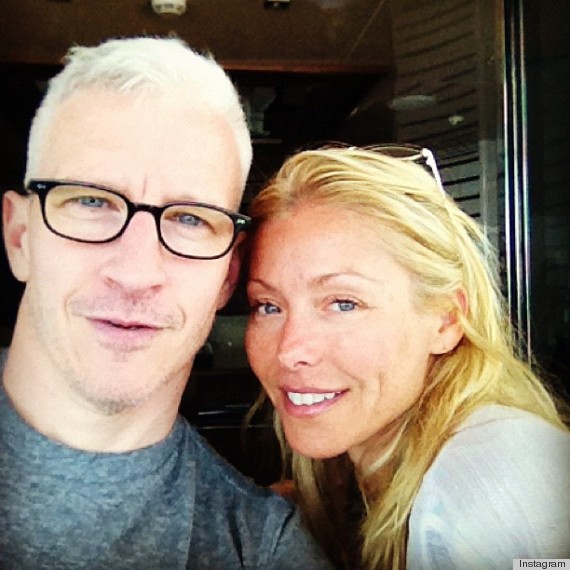 See even more celebs with no makeup!

Loading Slideshow
Demi Lovato

Britney Spears

Krysten Ritter

Claire Danes

Kate Moss

Rachel Hunter

Katy Perry

Jessica Stam

Selma Blair

Rita Ora

Fergie

Tilda Swinton

Paris Hilton

Rosie Huntington-Whiteley

June 2011

Mila Kunis

April 2012

Brooke Shields

October 2012

Brooke Shields

August 2011

Jessica Simpson

Cameron Diaz

August 2011

Jessy Schram

Britney Spears

September 2011

Sarah Jessica Parker

October 2011

Ellen Pompeo

July 2011

Ellen Pompeo

January 2012

Kate Hudson

August 2011

Ciara

August 2011

Minka Kelly

April 2011

Kate Moss

September 2011

Kate Moss

September 2012

Kate Moss

September 2012

Zoe Saldana

September 2011

Liv Tyler

September 2011

Janice Dickenson

Liv Tyler

November 2011

Busy Phillips

Halle Berry

September 2011

Jennifer Love Hewitt

October 2011

Jennifer Love Hewitt

April 2012

Elle Fanning

October 2011

LeAnn Rimes

LeAnn Rimes

October 2012

Salma Hayek

October 2011

Uma Thurman

October 2011

Marion Cotillard

November 2011

Hilary Duff

October 2011

Maria Bello

November 2011

Lala Vazquez

November 2011

Kim Kardashian

November 2011

Snooki

October 2012

Goldie Hawn

October 2012

Amber Valletta

March 2013
Want more? Be sure to check out HuffPost Style on Twitter, Facebook, Tumblr and Pinterest.