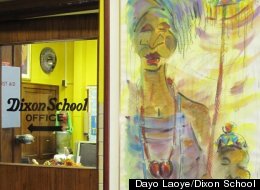 There's something special about Arthur Dixon Elementary School on Chicago's South Side. Over two-hundred works of art fill the building and spill outside into the schoolyard. Sculptures, oil paintings, watercolors, mosaics, and textiles present an education experience filled with color, texture, and creativity.
In a new film premiering tonight at the Black Harvest Film Festival in Chicago, we see how art is integrated into all aspects of the school curriculum. Pamela Sherrod Anderson's latest film, "The Curators of Dixon School," is the result of a two-year study documenting the students, teachers, educators, and art that occupy the building. In a phone interview with The Huffington Post, Anderson said, "What I found was really a grassroots effort...to make sure that art stayed in the picture of the school on an everyday basis."
The students all participate in art classes with Annette Malika Jackson, herself a working artist. The students produce their own mini-masterpieces, placing their work side-by-side the professional works."The children develop a whole other level of respect," Anderson explained. "They really own the art as an art collection belonging to them, and they take a great deal of pride in it."
There are no metal detectors at Dixon School (now commonplace in many public schools around the country) and there are no security guards at the school. Not one piece of art has gone missing in the ten years that this art curriculum has been implemented, Anderson said.
The project has echoes of Berkeley's "Edible Schoolyard." In 1995, Alice Waters, the slow-food movement goddess, helped to create a one-acre organic garden at Martin Luther King Middle School where students participate in hands-on learning. The program has since evolved, taking root all over the country. Both projects allow students a sense of ownership, agency and entitlement -- they take pride in their work.
Like the students in the Edible Schoolyard program who sell their produce at farmer's markets and to local restaurants, the children at Dixon sell their artwork at an end of the year auction. "It feels like you're in a little gallery setting and the kids sell their art. They then keep the money that they make for themselves," Anderson said.
The film is sure to spark a dialogue about the place of "Dixon-models" in the United States, a conversation Anderson and her co-producers are eager to ignite. The model makes links between communities and their schools, opening the door for parents, artists, and museums to get involved.
"The children learn about respect because the educators are showing them in the way that art is presented that they respect them, they trust them, and they value them -- that message comes across to them," Anderson added.
And the children at Dixon School? They don't understand why other schools wouldn't have art on the walls, "it's boring, it's bland," they say. (We think so too.)
"The Curators at Dixon School" will screen tonight as part of the Black Harvest Film Festival in Chicago at the Gene Siskel Film Center at 6 pm. Please visit the film's website for more information about upcoming screenings.
'The Curators of Dixon School'
"Drink in Remembrance" mosaic wall art by Carolyn Elaine.

"Ye-Ye Oba (The Mother Behind the King)" by Dayo Laoye, next to the school's office.

"Hide and Go Seek" sculpture by Faheem Majeed.

"Hide and Go Seek" sculpture by Faheem Majeed.

"Hide and Go Seek" sculpture by Faheem Majeed.

Watercolors by Stacey Brown.

Watercolors by Stacey Brown.

The Curators of Dixon School are (left to right) Carol Briggs, principal of Kohn Elementary Public School whose trying to bring elements of Dixon into her school's troubled world; Sharon Dale, current principal at Dixon; Joan Dameron Crisler, former Dixon principal and founder of school's art collection; and artist and Dixon art teacher Annette Malika Jackson. The educators are pictured here adjusting artist Mark Richardson's "African Girl" on Dixon's wall.