15-Year-Old Boy Arrested In Brownsville Shooting That Wounded Four Teens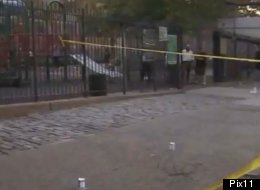 BROOKLYN — A 15-year-old boy has been arrested in the shooting on a crowded Brownsville playground earlier this week that wounded four teenagers, the NYPD announced Thursday morning.
The suspect, whose name DNAinfo.com New York is withholding because he is a minor, was charged with four counts each of attempted murder, criminal possession of a weapon and assault, police said. He lives around the corner from the scene of the shooting.