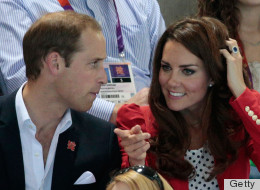 Before Kate Middleton fell in love with Prince William and tied the knot in that small little 2011 shindig, there was another paramour in the picture: Harry.
Wait a second. Harry?!
No, not that Harry.
A college friend of Catherine's reportedly spills to OK! magazine that the duchess took a twelve-week art history and Italian language courses in Florence, Italy, before signing up to study at St. Andrews, where she'd eventually meet Will.
But contrary to rumors, Kate never seemed hell-bent on tracking down the prince due to pressure from her mother. Besides enjoying her time in Italy with friends, the future duchess also had her eyes set on (GASP!) someone else, as her friend reports:
"The only time I even remember talking about William was when we found out he was coming to study in Florence, we would speculate about hanging out with him, but to be honest she never showed any interest in him or talked about him that much. She certainly wasn't going to St Andrews with the intention to snare him or anything like that. In fact she was more hung up on a guy called Harry, but things didn't work out."
From Harry to Will? You lucky girl.
It's been a busy summer for both Catherine and William in the ex-lover department: at a July wedding in Somerset, the pair reportedly bumped into four former paramours. Henry Ropner, whom Kate reportedly dated in 2007, was in attendance, as well as her first boyfriend from Marlborough College. William's exes Olivia Hunt and Rose Farquhar were also there. Awkward!
For those want to ask Catherine herself about this mysterious Harry, the duchess will be hosting a private tea party for select fans in Malaysia on her and Will's upcoming royal tour. If you happen to be in Malaysia.
Enough about exes... is there a baby in Catherine's future?
Kate Middleton Pregnancy Rumors
Star breathlessly claimed a photo from Kate and Will's recent royal tour showed a baby bump (and that twins were on the way!), but alas, many people -- including us -- cried Photoshop.

A week earlier, Star had claimed that Kate was pregnant as evidenced by a belt on a dress she wore, which appeared to have been let out a few inches.

According to the new US Weekly, the Duke and Duchess of Cambridge are ready to have a baby, and are planning to conceive their first little royal between September 2012 and summer 2013. (US Magazine)

According to In Touch, a witness walking around London's chic neighborhood, Chelsea, saw the Duchess of Cambridge with a noticeable baby bumps, a "glow in her cheeks," and a more rounded bottom. (In Touch)

Kate's refusal to eat peanut paste at a United Nations aid depot in Copenhagen sparked a storm of rumors that she may be pregnant. Apparently doctors recommend future-moms not to eat peanuts to avoid allergies. Kate wasn't pregnant (duh!) but the reaction from the press was huge, all because the girl didn't want peanut paste! (Indigo/Getty Images)

US Weekly claims that the Duchess of Cambridge is preparing for a baby while the Duke is oversees. (Earsucker Photo)

The tabloid magazine quoted a supposed source saying, "William almost collapsed with joy-and relief-when Kate called to tell him she was pregnant." Soon after a royal representative debunked the rumor. (Metro.co.uk photo)
Want more? Be sure to check out HuffPost Style on Twitter, Facebook, Tumblr and Pinterest.