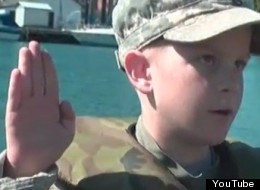 Though Ladd Anderson has had to endure exhausting rounds of chemotherapy and doctor's appointments, the 10-year-old wasn't interesting in relaxing when it came time for his "Make-A-Wish." The Michigan boy was set on serving his country.
To help fulfill Ladd's dream of becoming a soldier, the Make-A-Wish Foundation got together with the United States Army Reserve to organize a day the aspiring serviceman will never forget, TV 6 reports. The "tough guy" (that's what his mom calls him), slipped into his uniform and helped build a much-needed breakwater bridge for the 2012 Ensign National Championship Regatta sailboat race. The boy, who's battling leukemia, also impressed the fellow military members he worked with along the way.
"That kid is a role model to everybody. I'm jealous of him," Sgt. Bradbury told the news outlet. "Going through what he's going through, still mustering up strength to come out here and want to serve, that's incredible."
As inspiring as Ladd's wish was, he's not the only sick kid out there who has used his wish to make a positive difference in the world.
After Leland Camera was granted a trip to Disney World, the 5-year-old –- who also has leukemia –- asked the dream-fulfilling organization for an additional opportunity, to help hungry kids in his Anchorage, Alaska community, KSL.com reports.
Before the caring kid headed off to Florida, he donned his mouse ears and a suit and served a nutritious meal to children in need at Kid's Kitchen.
When Leland's mom asked him why he wanted to volunteer, he said the reason was obvious.
"'So many people helped me," Leland told his mom, "so I want to help others."
Check out other incredibly heartwarming Make-A-Wish Foundation moments in the slideshow below.
SLIDESHOW:
Best Mak-A-Wish Stories Of All Time!
Suffering from neuro-blastoma, 7-year-old Maxwell Hinton only wanted one thing from the Make-A-Wish Foundation: To blow up a building. "I watch 'MythBusters' and they inspired me to blow a building up," he explained. To watch Maxwell's wish come true, click here.

The governor of Colorado named May 14 "Princess Natalie Day" with the crowning of Princess Natalie Wertz, who was born with hypoplastic left heart syndrome. Her wish to become a princess came true, and her dad hopes that it will be the first of many realized dreams. "I think this does give her confidence. I think this gives her hope and motivation," he said. "I think it will give her, if nothing else, something to remember for a long long time." Read Princess Natalie's whole story, here.

In January WWE star John Cena was honored by the Make-A-Wish Foundation for granting the most wishes in the organization's history. "There's nothing greater than seeing a Make-A-Wish child and the Make-A-Wish family get so excited, get so happy and pretty much be welcomed into the escape that is the WWE," Cena told AZFamily.com. "That's pretty much what it's all about for me." Read the whole story, here.

For Chris Ramirez, the wishes didn't stop just because his cancer did. A year after beating a rare brain tumor, the 18-year-old was invited back to watch the L.A. Dodgers baseball team. He had tried out for the team thanks to Make-A-Wish, and was welcomed back graciously as a cancer survivor. "I feel lucky and the Dodgers gave me something to look forward to," Ramirez said. "They said I can always come back." Read the whole story, here.

In 2012 Rachel Murray, a Cleveland teenager undergoing chemotherapy got the surprise of a lifetime when she and her parents sat next to Rihanna at the Grammy's -- thanks to the Make-A-Wish Foundation. "I couldn't believe it when Rihanna walked up to me and said hello," Murray told WKYC.com. "I tried to remain calm but I know I was gushing as I asked for her autograph." Read the whole story, here.