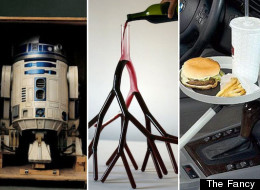 "Fancy" making yourself a digital wishlist by creating an online catalog of interesting products you've spotted around the web?
These aspirations are attainable -- and not just through Pinterest, the nation's favorite DIY-inspired "pinning" site.
Meet Pinterest's latest rival, Fancy, a photo-sharing website with a retail twist. According to the site's About page, "Fancy is part store, blog, magazine and wishlist."
So let's say you're clicking through webpages, and you stumble across the perfect kitchen table. After downloading the "Fancy button" and placing it on your toolbar (Pinterest has a similar tool), you can begin collecting images you like. These products are then organized into catalogs, which are housed on the Fancy and made purchasable.
That's right. Now you can actually buy pretty bedspreads and decorative dishes, instead of simply looking at them. (Yikes.)
But after flipping through Fancy for a while, we noticed that people "fancy" some really weird sh*t. Currently on my homepage: stick-on tattoos for casts, a gigantic metal sculpture of a wolf and (best of all) a $7,200 dog "mansion."
Huh.
We're fascinated by users who publicly acknowledge they'd actually purchase some of these objects. Would you really share with the world that you're spending two grand on 007-style briefcase?
Thus, we've curated our own catalog of the weirdest things people "fancy." Flip through the slideshow below, and let us know in the comments section if you've seen any other bizarre objects that made you go, "WTF!?" Then check out the top Pinterest users, as well as the weirdest things you can buy on Facebook.
Click here to read more about how Fancy could unseat Pinterest.
Weirdest Things To Buy On Fancy
Now your dogs can be in the 1 percent, too! Quick, someone start a Tumblr: "Rich Dogs Of Instagram." #Wealth #mansion. ($7,200) Photo taken from Fancy.

We were more excited when we thought this was made of chocolate... ($1,500) Photo taken from Fancy.

Why, why, why would you share online that you've just become the proud owner of a "Sundead?" ($2,500) Photo taken from Fancy.

It's debatable if this is ludicrous, or if we actually want an R2D2 in the office to fetch our coffee. Possible next intern? ($200) Photo taken from Fancy.

Forget fish -- didn't you ever want a pet moss ball? Yeah, neither did we. ($15) Photo taken from Fancy.

Do you pour from it? Does it just sit there? How do you wash it? So many questions that may never be answered... (About $50) Photo taken from Fancy.

We're embarrassed for the maker of this product (as well as for the consumer) -- but mostly because of the food in the photo. Does that burger look good to you? Ew. (About $12) Photo taken from Fancy.

Good luck explaining that to airport security. (About $2,636) Photo taken from Fancy.

(Cue infomercial voice.) "And the best part? Your kit comes with a 45 minute instructional DVD from a world famous fish trainer. But wait, there's more!" ($30) Photo taken from Fancy.

Um... Things just got weird(er). ($99) Photo taken from Fancy.