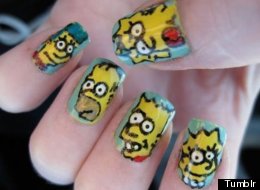 Comedy nerds find all sorts of ways to express their love of the art, but these fancy nail art designs are some of the most intricate comedy tributes we've ever seen.
It takes some serious skill to paint Conan O'Brien or Ron Swanson's face on a small nail, and maybe even more so to pull off an 8-bit "The IT Crowd" design or a 10-character sampling of "Futurama." You'll find those and more in the 28 pictures we found below. Someone even made nail art out of Marc Maron's "WTF" podcast (and yes, there are cats involved).
Vote for your favorites below and let us know if you see any other awesome comedy tributes out there that we should feature.
Kudos for getting Cartman's typical facial expression down to the tee.

The little Conan thumb is obviously the best.

If her pinky nail was a little longer you could get the full effect of Marge's hair.

Too bad they couldn't fit in a little Page jacket.

Holding the banana really adds to this picture.

With a double dose of Calvin.

Lois gets shafted a little bit on this one.

The set detail on the thumb is incredible.

Nailed it!

It takes a true comedy nerd to make nail art out of a podcast

Treat yo self, indeed!

The best way to show that you ain't afraid of no ghost.

In 8-bit to boot.

Enid would approve.

She missed an opportunity on the forefinger to get Daria in there.

Perfect for the holidays.

Bazinga!

Simple, but unmistakable.

"I'm Ron Burgundy?"

We're sure Matt and Trey would just LOVE this.

Rolling 10 deep!

It was probably pretty hard to fit "COMMUNITY COLLEGE" on the other hand.

The antennae on Plankton adds the finishing touch.

We had to include this one as well. Look at Ron Swanson's face!

Awesome detail.

Remember Patty Mayonnaise, guys?

Sure, why not?

It's as if it's 2004 all over again.