This week a feminist punk group inspired the world, a Hitler golf course enraged masses and 'Compliance' horrified audiences. Read on for more details...
This week we followed Pussy Riot's trial, protests and support from around the world, all leading up to a guilty verdict: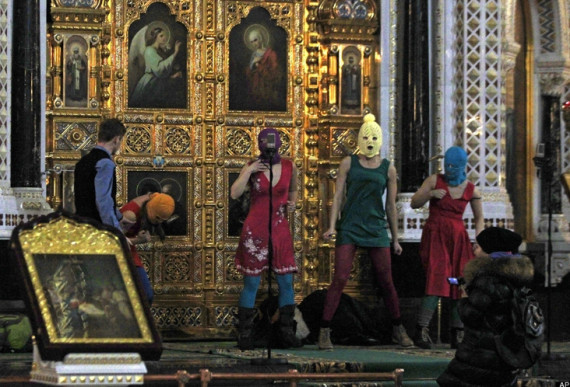 A Moscow judge sentenced three members of the provocative punk band Pussy Riot to two years in prison on hooliganism charges on Friday following a trial seen around the world as an emblem of Russia's intolerance of dissent.

The trial inspired a wave of small but raucous protests across Europe and North America in support of the feminist rockers, who have been dubbed prisoners of conscience by Amnesty International. Hundreds of Pussy Riot supporters waiting outside the Moscow courtroom chanted "down with the police state" when the sentence was announced. Dozens were detained, including several opposition leaders.

The three women were arrested in March after a guerrilla performance in Moscow's main cathedral where they high-kicked and danced while singing a "punk prayer" pleading with the Virgin Mary to save Russia from Vladimir Putin, who was elected to a third term as Russia's president two weeks later.

Judge Marina Syrova said in her verdict that the band members "committed hooliganism driven by religious hatred." She rejected the women's arguments that they were protesting the Orthodox Church's support for Putin and didn't intend to offend religious believers.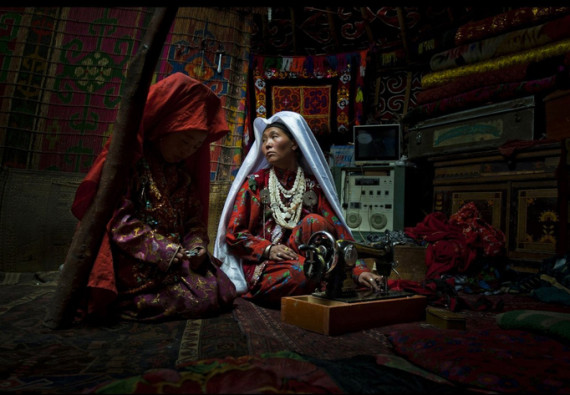 After choosing winners from over 12,000 entries, the National Geographic judging panel awarded prizes ranging from a Galapagos photography expedition to $200 gift certificates at B&H photography.
The first place prize went to Cedric Houin with his entry titled "Butterfly." The image depicts family life in the remote lands of Afghanistan, where a woman and child are inside a traditional yurt. According to Alexandra Avakian, National Geographic contributing photographer, "the content of the photo is striking because the photographer captured both the nomads' traditional way of life and some of their modern accouterments—the viewer gets the visual satisfaction of something that goes against cliché."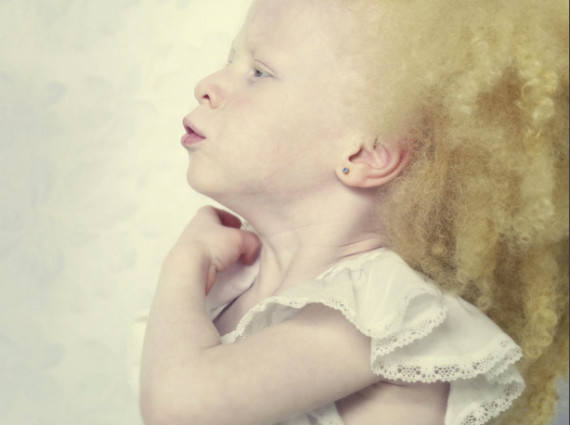 Brazilian Photographer Gustavo Lacerda's series "Albinos" blends biology, aesthetics and folklore in the striking collection of light-saturated photos.
Albinism is a hereditary condition resulting in the absence of pigment in hair, skin and eyes, which can lead to serious vision problems -- even blindness. In the United States, passersby might pause to stare, but outside the country the fate of albinos can be even crueler.
The photographer's series incorporates the gaze those with albinism are wont to experience, but in the series, they look right back at the viewers. Toying with pose, light and saturation, Lacerda creates an ethereal beauty where the light-drenched palette is coupled with a darker reality.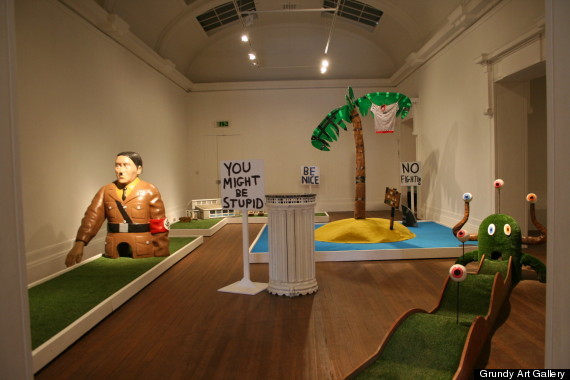 According to the BBC News, the British Jews organization claims that the Hitler statue, which raises its arm in a fascist salute and shouts "Nein Nein Nein" when a ball passes through it, "has absolutely no artistic value whatsoever."
Halfway through a special screening of "Compliance," the deeply unsettling new film from writer/director Craig Zobel, a woman stood up, yelled out, "Give me a f*cking break," and walked out of the theater. As the film progressed, other women joined her. At least eight by one count, although in the question-and-answer session following the film, someone suggested that actually 10 had left during the screening.
"Compliance," shown on Tuesday night at a special screening and panel put together by Psychology Today, is not a Holocaust drama or a gory war film or a Lars Von Trier genital mutilation-fest. It is a psychological thriller grounded in an almost documentary level of reality and will probably hold up as one of the most well-paced, brilliantly acted films of the year.
Let us know the best culture-related events of your week in the comments, please!
SUBSCRIBE TO & FOLLOW CULTURE SHIFT
Every Friday, HuffPost's Culture Shift newsletter helps you figure out which books you should read, art you should check out, movies you should watch and music should listen to. Learn more