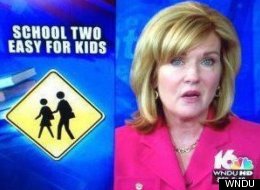 As our nation's young ones start heading back to school, it's important that we take the time to remember what we DON'T want to be seeing from our learning institutions. Naturally, we're talking about egregious misspellings, inappropriate puns and other less-than-scholarly mishaps on campus.
That's where we come in. This year we rounded up even more "back to school" FAIL pictures than we did last year for your viewing pleasure. This time, the always reliable reader board signs provide many of the laughs, but we also found FAILS hiding in news chyrons, sale signs and other "back to school" related items that might surprise you.
Check out the 45 FAILS below and vote for your favorites -- and remember, the children are our future (so we should probably spell it correctly).
Lesson number one: spelling.

Being a reporter is difficult, guys.

We're just going to hope today never ends.

To be fair, this wasn't her first senior year.

All the bi-curious students will be thrilled about this one.

Someone's going to get laughed out of Anatomy 101.

What every girl needs.

Spelling isn't technically tested on the SAT.

At this school they might not.

Apparently they aren't THAT committed.

Advil and condoms are necessary to survive long school days and longer school nights.

Are we sending mixed messages?

Either it's "film week" and some hooligans changed the sign, or someone severely messed up MLK Jr.'s initials.

Uhh... Yeah...

It's new-ish.

They should have gone with their original idea, "Students need remotes."

Let's leave the wordplay up to the professionals.

You've really got to get to those kids early!

Where do we even start?

In the future we see a lot of boys wearing wigs to go here.

Hey, he's technically right!

Have some self-respect, Garinger.

Neither Maiesha nor Anamaria wrote this sign.

The game can't solve all your problems.

"Amiright?"- Any unemployed person who just graduated from college.

To be fair, tomorrow is really hard to spell.

Perhaps they meant the Yiddish "Shul," but probably not.

More like fuel for detention (juvenile detention).

"Elbows, Billy! Elbows!"

Be sure to stock up on folders, binders and machetes before September.

To be fair, it was a VERY spicy burrito.

This kid should have no problem making friends

Let's hope they're better at science than they are at English.

The 24 pack is for the elementary pong game you saw earlier.

Oh what a difference one letter makes...

NOW do you see why schools need more funding?

This is why you don't make up your own abbreviations.

Wear these and you'll get an "A" for "Asked to go home and change."

They're also teaching a course on irony.

Sharp Elementary isn't so sharp after all.

What they meant was, "Sh! Cool..."

They ALMOST had it...

Worst sign placement ever!

We think you already lost the challenge.

Is that like a pervy haiku or something?