What will it take for manicures and pedicures for men to go mainstream? Perhaps finding a high-profile man to sing their praises.
Enter Cory Booker, the respected mayor of Newark, New Jersey, who has apparently gone on the record singing the beauty treatments' praises. Booker sat for an interview for Du Jour magazine's inaugural issue, in which he chats about politics and his off-duty hobbies. The New York Post got a preview and the highlight seems to be Booker divulging a secret love for mani-pedis:
"I had an ex-girlfriend who ruined me in terms of my macho, ex-football-player self -- she turned me on to mani-pedis... Being a public figure, people talk smack about you, so I found this 24-hour mani-pedi place and go in the middle of the night. It's this guilty pleasure I have. Look, manis are good, but pedis -- there's something... transformative."
We have waxed similarly about transformative powers of a good pedicure, but it's rare to hear the words from a man's mouth. But perhaps we shouldn't be surprised -- Booker knows a thing or two about personal style, having undergone various fashion interventions over the years.
He told Menswear magazine that his staff helped him improve his suits, avoid faux pas like Speedos and even eliminate unflattering pleated pants from his wardrobe. He also aspires to enhance his tie knot to Obama levels of perfection (the president fashions a mean dimple).
In other words, Booker is not only impeccably groomed but also stylishly dressed. Also, he co-stars in an online comic book with none other than HuffPost Style's mascot, Ryan Gosling.
Is it acceptable to say we're developing our first-ever mayor crush?
Read more in the brand-new Du Jour magazine. Below, a quick snap of Mayor Cory Booker: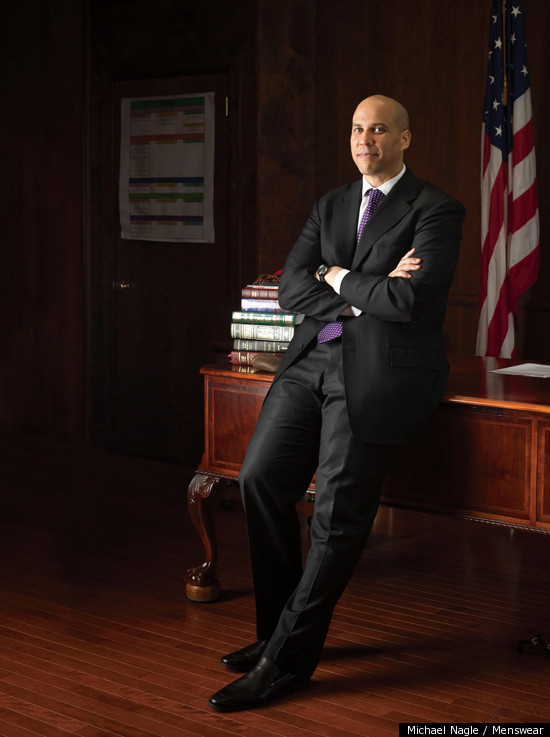 How does Booker stack up against Hollywood's most stylish men?

Loading Slideshow
Ryan Gosling

He won our hearts in '<a href="http://www.imdb.com/title/tt1570728/" target="_hplink">Crazy, Stupid, Love</a>'; got our hearts racing in '<a href="http://www.imdb.com/title/tt0780504/" target="_hplink">Drive</a>'; and thrilled us in '<a href="http://en.wikipedia.org/wiki/The_Ides_of_March_%28film%29" target="_hplink">The Ides of March</a>.' We think it's pretty safe to say he was robbed of the Sexiest Man Alive title -- and judging by the backlash that occurred on the Internet, we <em>also</em> think it's safe to say many people agree. Just look at how well Ryan Gosling rocks the red carpet. Seriously. We loved him on 'Breaker High' and we love him now. <br><em>Actor Ryan Gosling attends the premiere of 'The Ides Of March' in Beverly Hills.</em>

James Franco

James Franco definitely wasn't bored this year. He starred in 'Rise Of The Planet Of The Apes.' He hosted 'Saturday Night Live' -- twice -- and hosted the Oscars with Anne Hathaway. He directed two short films for R.E.M. and a docudrama (that's now a feature film). And, finally, in March he announced he would be teaching a course at New York University. He also donated some of his moola to causes that are close to his heart. So to recap: actor, director, student, professor, host, philanthropist and, frankly, super-styling babe (look at those glasses!?). Yep, James Franco kind of rocks. <br><em>Director/actor James Franco attends the 68th Venice Film Festival.</em>

Jon Hamm

Although 'Mad Men' has been on a bit of a hiatus, we think Jon Hamm deserves to be on a best-dressed, hard-working dude list. That's not just because he -- and his hunky costars -- managed to bring 1950s retro chic to the mainstream masses (via a limited edition clothing line at Banana Republic), he also starred in two incredible movies -- 'Sucker Punch' and 'Bridesmaids'. He even narrated the official highlight reel for the World Series. <em><br>Actor Jon Hamm attends LACMA Art + Film Gala Honouring Clint Eastwood and John Baldessari.</em>

Diplo

Diplo (born Thomas Wesley Pentz) has been blowing up the pages of GQ this year because of his style. He's obviously been doing his thing from behind the decks (DJing that is), but <a href="http://www.gq.com/style/wear-it-now/201110/diplo-turtleneck-style-fall-gq-october-2011#slide=" target="_hplink"> it was his ability to show us how to rock the turtleneck that won our hearts.</a> <br><em>DJ Diplo on October 12, 2011 in Hollywood.</em>

Andrew Garfield

As we anxiously await the reboot of the 'Spiderman' franchise starring Mr. Garfield, we can tip our hats to him for his performance in 'The Social Network' (we know the movie was released in 2010, but the flick was up for four 2011 Academy Awards -- taking home four). He also landed on the arm of one of our favourite leading ladies -- Emma Stone (a move that landed him on style pages worldwide; you gotta look good when walking the carpet with a gal who's super sexy). <br><em>Andrew Garfield attends the Orphans Foundation's Seventh Annual Benefit Gala in New York.</em>

Justin Timberlake

Justin Timberlake doesn't need to bring sexy back because he <em>is</em> sexy. It's been a while since we've heard his pretty voice singing us songs, but this year he gave our eyes a little candy. After his role in 'The Social Network' he had us laughing in 'Friends With Benefits' and 'Bad Teacher'. And all the while he looked good doing it. <br><em>Actor/singer Justin Timberlake arrives at the 16th Annual GQ "Men Of The Year" Celebration.</em>

Joseph Gordon-Levitt

Joseph Gordon-Levitt caught our eye as the adorable lovestruck not-boyfriend of Zooey Deschanel in '500 Days Of Summe'r' In 2011, he was in '50/50' alongside Seth Rogan, which won him many an accolade, and he signed onto one of the must-see movies of 2012, 'The Dark Knight Rises.' Cap all of that with the fact he dons sleek cocktail-era (aka: the 40s/50s) garb and slicks his hair back, and this guy is one dude who makes us swoon. <br><em>Joseph Gordon-Levitt attends the U.K. film premiere of 'Inception' in London.</em>

Leonardo DiCaprio

Leo was lurking behind the scenes this year more than flaunting his face on the big screen. He was the executive producer of 'The Ides Of March' (starring our main man Gosling) and was a producer on 'Red Riding Hood'. He was seen in 'J. Edgar' and has been in talks to be in the next Quentin Tarantino movie. But he was also spotted on the arm of the "it" girl of the moment, Blake Lively. You also have to admit, though his typical outfit is jeans and a tee, he cleans up nicely for a night on the red carpet. <br><em>World Premiere of 'J. Edgar' in Hollywood.</em>

Matt Damon

Matt Damon wasn't in <em>one</em> movie in 2011, <em>he was in five</em>. If that doesn't impress you, we don't know what will. Perhaps how good looking he was in each flick -- just look at that smile... those eyes! We're not totally down with his latest "decision" to go sans head hair, but since he's so awesome, and he can rock a tie, we'll forgive him. <br><em>Event honoree actor Matt Damon attends the 6th Annual "Made In NY" awards at Gracie Mansion.</em>

Drake

He was our favourite character on the classic Canadian show 'Degrassi' and now he has taken the rap industry by storm. His most recent album <em>Take Care</em>, which dropped in November, is among the best albums of the year. That and he's reportedly dated Rihanna. It's like he went from high schooler to big-time rapper and red-carpet winner overnight. We couldn't be more thrilled. <br><em>Drake on November 16, 2011 in Los Angeles.</em>

Ed Westwick

Ed Westwick returned to NYC's Upper East Side as a happier man this season on 'Gossip Girl.' The show celebrated it's 100th episode and Chuck Bass is still as attractive as ever. He even starred with one of our other favourite guys, Leonardo DiCaprio, in 'J. Edgar.' He's only 24, but he looks good whether his face is clean-shaven or scruffy. And his style is impeccable, whether he's on the small screen or the red carpet. <br><em>Red carpet arrivals for the National Movie Awards.</em>

Aaron Paul

If you don't watch 'Breaking Bad' yet, we think you're crazy. Aaron Paul plays Jesse, the ex-meth smoking hooligan and partner-in-crime to Walt. He cooks meth and he looks good doing it. Our heart breaks for the fact the show is about to enter its last season, but we appreciate everything that Jesse Pinkman has done throughout the show. From hood-rat to hero -- Aaron Paul is a definite treat. <br><em>Actor Aaron Paul arrives at the 16th Annual GQ "Men Of The Year" Party.</em>

Harry Shum Jr.

Harry Shum Jr. has been tearing up the dance floor on 'Glee' all season. He's definitely one of the best-dressed characters on the show, too -- his style may not be as outrageous as Kurt, but he always looks stylish. Two other fun facts? In 2011, he appeared in 'Stomp The Yard' and 'Step Up 2: The Streets'. <br><em>Actor Harry Shum Jr. on December 5, 2011 in Hollywood.</em>

Ashton Kutcher

Ashton Kutcher is back on the market. And, ahem, we have to say we wouldn't complain about celebrating New Years Eve with him. Not only is he now the star of one of television's most popular shows -- 'Two And A Half Men' -- he also starred in 'New Years Eve' and 'No Strings Attached' in 2011. That and he's pleasing to the eye -- we kind of dig is scruffy yet boyish red carpet charm. <br><em>Actor Ashton Kutcher attends the 'No Strings Attached' premiere.</em>

Daniel Craig

His appearance in 'Cowboys & Aliens' was a bit of a letdown for us, but we can't help but love this former Bond (he's a bond, ladies -- that makes him forever sexy). He's signed on to star in the movie adaptation of one of our favourite book series 'The Girl With The Dragon Tattoo' and he has a role in the child classic 'The Adventures of Tintin'. That's not to mention, in 2011, he married one of the sexiest woman on the planet -- Rachel Weisz (lucky lady). <br><em>Actor Daniel Craig attends the world premiere of 'The Girl With The Dragon Tattoo'.</em>
Want more? Be sure to check out HuffPost Style on Twitter, Facebook, Tumblr and Pinterest.