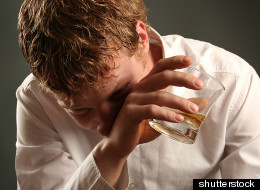 Who's more prone to hit the bottle after divorce -- men or women?
A new study presented at the annual meeting of the American Sociological Association on Saturday indicates that men are more likely than women to turn to drinking after divorce. As a whole, married men appear to drink less than their single and divorced counterparts.
By contrast, the study suggests that married women drink more than their divorced or widowed friends -- partly because they lived with men who had higher levels of alcohol use.
Still, the research indicates that men consistently drink more than women and are more prone to develop an alcohol problem.
"Marriage and divorce have different consequences for men's and women's alcohol use," study author Corinne Reczek told Health Day. "For men, it's tempered by being married and exacerbated by being divorced."
Reczek, an assistant professor in sociology at the University of Cincinnati, and her team reviewed data from a long-running behavioral study of 5,305 people in Wisconsin. The team then reportedly conducted in-depth interviews with 120 of the respondents to determine why their drinking habits had changed.
This isn't the first time marital status has been shown to influence alcohol consumption. In 2004, a study conducted by Australian National University suggested that married couples generally drink less than their non-married counterparts. And last year, a study out of the Cardiff University suggested that happily married couples were more likely to eat healthily than other people.
For more divorce research findings, click through the slideshow below:
A University of Cambridge study released in February 2011 found that happy teens are more likely to divorce than their less-happy counterparts. Researchers used data from 2,776 teens ages 13-15 who participated in a 1946 British cohort study, in which their teachers rated their happiness levels at the time. The researchers then went back to those same people at ages 36, 43, and 53 and measured their incidence of mental disorder, life satisfaction, and social lives -- including divorce. The teens who had received the highest happiness ratings divorced at a higher rate (20.4 %) than the other, less-happy study participants.

A study released by the American Society of Plastic Surgeons in September 2011 found women divorcees suffer more hair loss than women who are happily married. Interestingly, marital status did not appear to impact hair loss in men. Dr. Bahman Guyuron, the study's lead author, attributes his findings to gender differences. "The stress of going through a divorce may not be as troublesome for a male as it is for a female. They [men] may jump from one relationship to another relationship a lot faster," he told the Huffington Post. "[Women] take relationships more seriously and perhaps they are more uncomfortable for a longer period time because of a divorce. It takes its toll on them a great deal more than on males." He noted, however, that his explanation was based on common sense and not scientific proof.

In July 2011, Robin Milhausen and Kristen Mark at the University of Guelph collaborated with Erick Janssen from The Kinsey Institute for Research in Sex, Gender, and Reproduction at Indiana University to study how "sexual personality" -- or the range of traits that dictate how easily people become turned on or off by certain cues -- can predict infidelity. They found that while men and women reported similar rates of cheating (23 percent of men and 19 percent of women), the causes for the infidelity differed. Men who were easily aroused and men who suffered from performance anxiety were more likely to cheat; their sexual satisfaction within their monogamous relationship was irrelevant. Conversely, women who felt sexually unsatisfied were more likely to be unfaithful. HuffPost Divorce's feature about the study garnered a whopping 2,059 comments, prompting a discussion on the real reason people cheat.

A September 2011 study published in the Journal of Sexual Medicine found that affairs do more than break hearts -- they may also break penises. Dr. Andrew Kramer studied 16 cases of penile fracture between 2007 and 2011; half of the patients admitted to fracturing their penises during an extramarital affair. "I think that a guy, when he's with a girlfriend or a coworker and he's in a weird place, I think the sex might be different," Dr. Kramer told the Huffington Post. "He's extra excited and maybe he's doing more forceful or frequent thrusting, and the key is that he has less control over the angle that his penis can penetrate and that's what can predispose the fracture." Kramer noted that the paper was "just observational" and that there is no causal relationship between infidelity and penile fracture. It's no surprise that this buzzed-about piece was one of the most popular features on the Huffington Post.

In a June 2011 study, researchers at Ohio State University found that unemployed men face greater likelihood that their wives will initiate divorce -- and that they themselves are more likely to leave their marriages when out of work as well. Conversely, a woman's employment has no effect on the likelihood that her husband will file for divorce. "There's something still about men's non-employment that flies in the face of what couples think a marriage should be," the study's lead researcher Liana Sayer told the Huffington Post.

In June 2011, a study from the University of Iowa suggested that women who are sexually active before age 16 are more likely to divorce. Of the 3,793 women surveyed, 47 percent of the women who lost their virginity during their teen years divorced within 10 years of getting married. In the media frenzy that surrounded this finding, one important fact was lost -- that while the age at which sex first occurred was significant in predicting women's likelihood to divorce, more important was whether that sex was qualified as "wanted." The earlier women lost their virginity, the less frequently the sex was actually wanted, and thus, the study's conclusions were more about how the nature of first sexual experiences affects later romantic relationships. Over 1,000 people "liked" this HuffPost Divorce feature on Facebook.

According to a study published in September 2011 by the University of Missouri, married couples that receive government assistance are more prone to divorce. Of the 295 couples surveyed, those earning $20,000 or less and receiving government assistance reported significantly lower rates of marital satisfaction than those earning the same amount but receiving no state support. Researcher David Schramm explained his findings this way: "I think, and the research supports this, is that work brings satisfaction and accomplishment," he told the Huffington Post. "And perhaps government assistance, for some men, may make them feel inferior, which may influence their level of stress."

A Pew Research Center report released in June 2011 found that the number of children living apart from their fathers has more than doubled in the last fifty years, from 11 percent in 1960 to 27 percent in 2010. The findings, culled from data from over 10,000 people, paint a grim picture of many fathers' lack of involvement in their children's lives -- and an increase in divorce rates may be partially to blame. "We see that the share of children living apart from their dads has more than doubled...and at the same time we see that three-fold increase in divorce," the report's co-author Gretchen Livingston told the Huffington Post. "Clearly the trends fit together."

The University of Virginia's National Marriage Project released a report in August 2011 titled "Why Marriage Matters" that suggested that kids living in cohabitating households don't do as well socially, educationally, and psychologically as kids living in intact married households. The authors partially blame the lack of stability in cohabitating households for this phenomena, noting that cohabitating couples with a child are more than twice as likely to split before the child turns 12 than married parents. However, these findings came under fire by critics who argued (among other things) that the lack of a marriage certificate alone can't account for these problems among kids with unmarried parents. Rather, cohabitation rates are connected to race, class, and education, which -- in turn -- are factors in child development. Indeed, Huffington Post commentors were vocal about the National Marriage Project's "right wing" ideologies and the report's "skewed" results.

A study published in the April 2011 issue of "Obstetrics and Gynecology" found that women who give birth to twins are slightly more likely to divorce than mothers who give birth to one baby. The authors suggest that the small difference in divorce rates (only 1 percent) could be attributed to the emotional and financial stress of having twins, among other factors. Case Western Reserve University's Dr. Elizabeth Damato, who studies twins but was not involved in the study, told Reuters that parents of twins may experience more stress and lack of sleep than parents of one baby, which could contribute to the higher divorce rate. "Parents felt stressed because they spent so much time attending to their (infants') care needs...that they don't have time to really enjoy them," she told Reuters Health.

A study published in May 2011 in Psychology, Public Policy, and Law assessed whether child custody decisions are biased in favor of mothers. Dr. Sanford Braver and his colleagues at Arizona State University asked 100 study participants to determine who should receive child custody in three hypothetical situations; in one case, the mother provided 75% of the caregiving prior to the divorce, in the second case, the father provided 75% of the caregiving and in the third case the caregiving was split equally by both parents. Study participants overwhelmingly agreed that custody should be split between both parents, even in cases where one parent provided more of the caregiving prior to the divorce. However, when asked what they thought would happen in "today's legal system," participants indicated that they believed mothers would be granted more favorable custody arrangements by the courts. The researchers write that the perception of a bias in the legal system is important because lawyers and parents may base their custody preferences on what they believe the court will decide. "The mere perception that there is a bias may influence settlements on which most the judgments are based, [resulting in] a self-fulfilling prophecy."