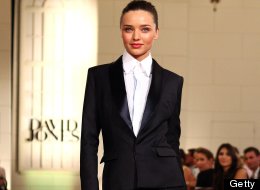 I remember when women were just beginning to take their place of power in the male dominated work environment. And they thought that in order to be taken seriously, they needed to limit their wardrobe choices. Fighting for respect, they tended to favor boxy, masculine pantsuits, as if femininity and power had to be kept mutually exclusive. It seemed to be the unspoken rule that women had to dress like their male co-workers. Remember those pictures of women wearing suits and ties!
But, that kind of thinking is passé. Feminine fashion has reasserted itself and taken center stage in the workplace. From pastel colored pantsuits to printed pencil skirts, women everywhere are showing their style and still earning the accolades they deserve. Just take a look at our First Lady, Michelle Obama, with her sophisticated style, she's earned a spot on Vanity Fair's best-dressed list, while also landing on top of Forbes' list of the 100 Most Powerful Women. And ever since she first hit the campaign trail, she's shown America that looking the part of presidential wife doesn't have to break the bank.
Even Hillary Clinton, a woman of profound influence and power in America, has continued to update her wardrobe over the past 20 years. From the drab pantsuits of yesteryear, to the brightly colored suits with ruffled blouses of today, Hillary's personal style has certainly seen some changes. But, her no-nonsense attitude that's made Hillary such a success has not changed. Back in 2010, an interviewer innocently asked her, "Which designers to you prefer?" All business, Hillary answered with one question that ended the conversation: "Would you ever ask a man that question?" I've always cheered the way Hillary has redefined the role of women, proving she may be stylish, but she is still a take-no-prisoners politician.
So in celebration of personal style and the fabulous future of fashion, we've put together a slideshow of some favorite fall trends. It's always hard to find just the right pant for your shape but this year we're seeing so many different variations that I think there will be a perfect fit for just about everyone. Of course, we can't all wear exactly what we see coming down the runway, but we can get ideas and inspirations and make them work for each of us. As they say-- It's all about the takeaway. --Marlo, MarloThomas.com
Ever since Michelle Obama first stepped on the political scene back in 2008, she has become a style icon for women all across America. Known for her colorful ensembles, sophisticated look, and affordable style, in 2011 Michelle made Vanity Fair's Best-Dressed list and shops at the Gap! Takeaway: You don't have to break the bank to look like a president's wife.

Ever since she took center stage in the royal spotlight, Kate Middleton, Duchess of Cambridge, has been admired for her personality, poise and personal style. Her bright colored-look, like this gorgeous red dress and fascinator, has made her the latest fashion icon across the pond. Not only was she selected as one of Time Magazine's 100 Most Influential People in the world in 2012, but she's also topped the charts of Vanity Fair's best-dressed list. Takeaway: Be bold in bright colors!

Like the Duchess, don't be afraid to be bold. Don't feel confined to dark, drab colors. Instead, embrace bright colored pants like these red trousers. If you're feeling funky, try pairing a bold silk trouser with a chunky sweater for a casual and youthful feel. Takeaway: Energize your style with a bright colored trouser--you can always tone it down with a neutral top.

Hillary Clinton's personal style has certainly seen some changes over the past 20 years. But the no-nonsense, Secretary of State has never been more influential--and never looked better--than she does today. Here, she shows her feminine side with a beautiful blue, fitted pantsuit, proving that no matter how powerful you are, you can always sport a little color. Takeaway: Don't be afraid to show your true colors!

Hollywood's sweetheart, Jennifer Aniston, isn't just a triple threat--as a talented actress, director and producer--she also makes a powerful statement in an all black pantsuit like this one. Rocking a slimming bootcut pant and a silky black tuxedo-style look, she got the legs every trouser deserves. Takeaway: Be sexy in an all-black statement suit with feminine detail!

Metallic trousers are such a festive look that's not only sophisticated, but also playful. Don't be afraid to shine, with a great pant that has a little shimmer. There's no risk when worn in a muted color like grey or black, and the pants can be dressed up with a basic blazer or dressed down with a loose knitted sweater. Takeaway: You're never to old to shine in a pair of metallic trousers.

Rich fabrics like tweed are a great way to make a smart statement. Embrace a scholastic look and try a plaid trouser like this one. For a subtle take on the youthful look, pair your plaid pant with a silk blouse and basic blazer. Takeaway: Dare to try a plaid trouser or a rich fabric like tweed.

Neutral pieces are always a great wardrobe staple, but don't be afraid to make a statement in a monochromatic nude look like this one. Differing shades of the same color transforms a safe pant into a statement look. Takeaway: Make a statement in an all-nude outfit.

In recent years the cropped skinny trouser has made a comeback in all kinds of colors, patterns, prints and fabrics. A great look for the office and beyond, try channeling your inner Audrey Hepburn in all black, or make the look playful with a bright blazer. Takeaway: Sometimes you just have to keep it simple.

The wide-leg trouser has been a staple in many women's wardrobe for years. But why not try spicing up your style with a great printed pant like this one. This season, latticework prints are everywhere, and they're a great way to break up the monotony of basic black. Takeaway: Step up your style with a printed pant.

The rule in fashion used to be no white pants after Labor Day, but last winter all-white looks took the season by storm. And this fall you can expect more of the cool, creamy, monochromatic look. Takeaway: Dare to wear white, even in the dead of winter.

Another great way to step up the wide-leg trouser is with rich fabrics. This season lush velvet has made a comeback, and what better way to embrace the trend than with a great pant in a rich, jewel-tone like burgundy. Takeaway: Experiment with rich jewel-tone colors like burgundy, emerald, and sapphire.
Add Marlo On Facebook:
Follow Marlo on Twitter:

Weekly Newsletter

Sign up to receive my email newsletter each week - It will keep you up-to-date on upcoming articles, Mondays with Marlo guests, videos, and more!

Sign up here