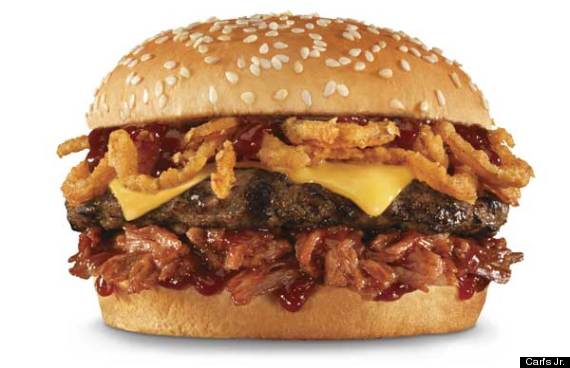 The burger will feature a charbroiled patty topped with cheese, Sweet Baby Ray's BBQ sauce and crispy onion strings. Burger Business writes that the dish will clock in at an astounding 1,000 calories.
A press release calls the creation a "meat-on-meat" burger and makes light of a 2006 comment by Jay Leno that the fast food company was just using "meat as a condiment for other meat." We're not sure Leno meant it as a compliment, but Carl's Jr. certainly seems to be taking it that way.
Since then, the fast food chains have been pushing the envelope with meat creations like the Pastrami Burger, Philly Cheesesteak Burger, the Prime Rib Burger and the French Dip Thickburger.
A new ad spot titled "BBQ's Best Pair" will feature models Sara Underwood and Emily Ratajkowski hasn't dropped yet, but we're guessing it's going to be racy based on the below still. Previous ads for the company have highlighted Kim Kardashian, Padma Lakshmi and Kate Upton.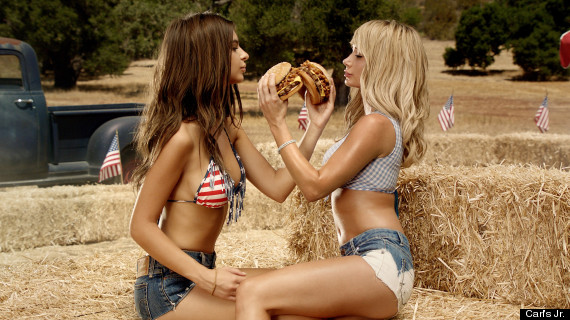 Promo images for the burger look tantalizing, but OC Register reporter Nancy Luna snapped some rather unappetizing shots back in June at the Carl's Jr. flagship in Anahaim, Calif. during what seems to have been the burger's testing period. Luna noted that various types of baked potatoes were also being sold at some California locations, but those don't appear in current Carl's Jr. offerings.
SUBSCRIBE TO & FOLLOW THE MORNING EMAIL
The Morning Email helps you start your workday with everything you need to know: breaking news, entertainment and a dash of fun. Learn more