DCPP Arquitectos' Sky Condos Offer Sky-High Balconies With Swimming Pools In Lima, Peru (PHOTOS)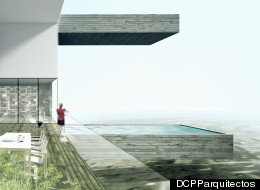 Having a private pool may seem like a luxury reserved for single-family homeowners, but in Lima, Peru, even apartment dwellers can take a dip in private.
DCPP Arquitectos' planned Sky Condos will feature balconies with private pools and other amenities that aim to better integrate indoor and outdoor spaces, according to a Google translation of the company's website. (Hat tip: the Daily Mail.) The 20-story condo building, designed to be "an icon for the future," will be located in the heart of a wealthy area of Lima and offer its residents views of a nearby golf course.
The concept may seem outlandish, but DCPP Arquitectos isn't the first firm to design a building with pool balconies. A planned 37-story apartment complex in Mumbai, India, aims to give the super rich access to the great outdoors by attaching a swimming pool to every balcony. But wealthy swimmers may want to be careful; Gizmodo called the building a "deadly accident waiting to happen."
Check out more images of the Sky Condos below: