On a recent morning in Caracas, Venezuela, over a dozen topless women donning only red pants congregated in front of the Museo de Arte Contemporáneo to demand the return of Matisse's "Odalisque in Red Trousers." The painting, which is worth over $3 million, was replaced with a fake more than ten years ago at the museum. In a surprising twist of fate, the painting was reclaimed by the FBI in Miami Beach last month -- however, it has yet to be returned to the Venezuelan museum.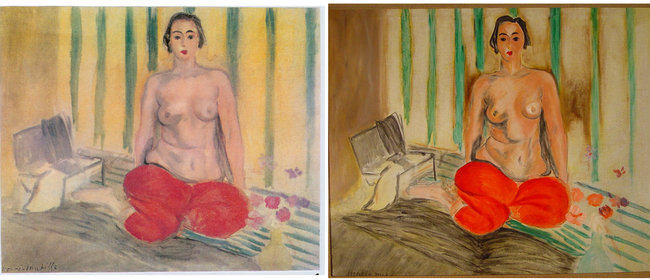 The original "Odalisque in Red Trousers," is on the left next to the fake.
Violette Bule, the photographer who organized the protest, told the Guardian that, "My main goal is to have the original returned but I also want to call attention to the irony behind the way the art market works. After this scandal, the Odalisque will surely be worth much more." The New York Times reported that 14 pieces have gone missing from the museum, though the Matisse wasn't counting among these during an inventory over a decade ago.
Despite Venezuelan attorney general Luisa Ortega's attempts to contact US officials regarding the return of the painting, all calls have reportedly gone unrecognized, according to the Guardian. Wanda de Guébriant, director of the Archive Matisse in France, is just as perplexed. "The FBI called me shortly after the operation happened. They said they'd call again but they haven't. Who knows?" Guébriant said in a statement to the Guardian. "Depending on who is involved, sometimes we never find out what happens."
What do you think, readers?
Check out the slideshow below to see more creative arts-related protests, and let us know your thoughts in the comments section.

Loading Slideshow
The Guerrilla Girls

The <a href="http://www.guerrillagirls.com" target="_hplink">Guerrilla Girls</a>, a group of feminists who anonymously protest gender and racial inequality in the art world, formed in 1985 in response to MoMA's exhibition "An International Survey of Recent Painting and Sculpture." The exhibition which displayed 169 artists, included only 17 women in the entire showcase. Most recently, the Guerrilla girls sent a message to museums that it is "Time for Gender Reassignment."

Casoria Contemporary Art Museum

In May, Antonio Manfredi, director of the Casoria Contemporary Art Museum (CAM) in Italy began an aggressive campaign to protest budget cuts to Italy's arts programs. His protest involved lighting works of art on fire, warning that he will scorch two to three pieces of art every week. <a href="http://www.npr.org/2012/05/21/153206833/in-fiery-protest-italian-museum-sets-art-ablaze" target="_hplink">In a statement to NPR</a>, Manfredi said, "When I burn one artwork I feel very, very bad. Because each one piece in this museum is one part of my life, is one part of the life of the artist. But when the revolution is possible only with the burning action, we destroy some art to save all art."

Turner Prize Winners Protest

In 2010, more than 100 of the UK's most well known artists wrote an open letter to Britain's culture secretary, Jeremy Hunt, warning that "<a href="http://www.guardian.co.uk/culture/2010/oct/01/artists-open-letter-jeremy-hunt?INTCMP=SRCH" target="_hplink">government cuts risk destroying the country's remarkable and fertile landscape of culture and creativity</a>." The letter was signed by an array of British artists, including Tracy Emin, Anish Kapoor and Steve McQueen. The group that organized the letter, <a href="http://savethearts-uk.blogspot.com" target="_hplink">Save the Arts UK</a>, simultaneously released new artwork to call attention to the campaign.

Pussy Riot Protests

Protesters all over the world <a href="http://www.huffingtonpost.com/2012/08/17/pussy-riot-members-found-_n_1797903.html" target="_hplink">took to the streets</a> last week to protest the two year prison sentence given to three members of the Russian punk band, Pussy Riot. The band was found guilty on charges of "hooliganism" after they were arrested in March for staging an Anti-Putin performance at a cathedral in Moscow. Their arrest has sparked worldwide outrage, and many well known artists have stepped forward in support of Pussy Riot, including Bjork, Peaches, and Paul McCartney.

The Occupation of Anish Kapoor's House

Earlier this summer, a group affiliated with the Occupy movement took over a vacant house belonging to the artist Anish Kapoor for a one-day arts event. The group said that the house has been empty since Anish Kapoor purchased it in 2009. <a href="http://www.guardian.co.uk/artanddesign/2012/jun/22/anish-kapoor-house-london-protesters" target="_hplink">According to the <em>Guardian</em></a>, the group planned to host "art exhibits, talks and film screenings, with live music after 9pm." In a statement released from a member of the group, Jeniffer Taylor, they describe the Olympics as "<a href="http://www.guardian.co.uk/artanddesign/2012/jun/22/anish-kapoor-house-london-protesters" target="_hplink">a smokescreen to take our minds off the austerity measures, the global economic crisis and the commodification and privatisation of everything, even art</a>."
Also on HuffPost: