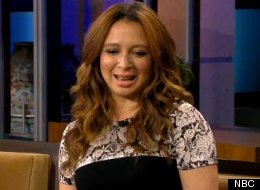 "Up All Night" star Maya Rudolph stopped by "The Tonight Show" on Monday and shared some interesting tidbits about her time on "Saturday Night Live," particularly, the unusual way she got on the show.
After talking about her triumphant return to "SNL" last season as host (where she and "Bridesmaids" co-star Kristen Wiig famously lost it during the "Super Showcase" sketch) Rudolph explained to Jay Leno how she never actually went through the show's notoriously challenging audition process. When she was approached by "SNL" scouts after a performance with The Groundlings in Los Angeles and offered an audition, Rudolph actually turned it down due to what she calls "some really bad advice."
"In retrospect I'm sure I was afraid," Rudolph explained. "I took bad advice -- I'm adult enough to admit that now."
Luckily, Rudolph didn't throw her chance away for good. She and fellow Groundlings alum and "Up All Night" creator Emily Spivey and her husband edited together a reel for Rudolph and sent it to Lorne Michaels. Maya got the gig, Emily became a staff writer and the rest, as they say, is history.
Watch Maya's interview above and see below for some of the funniest "SNL" on-air crack-ups, including "Super Showcase."
In this dress rehearsal sketch on Kristen Wiig's finale episode, Bill Hader can NOT keep it together.

This sketch lives on as one of the most famous instances of the entire cast losing it.

Just wait until Horatio Sanz comes in...

The secret behind Stefon's hilarious breaks? That would be writer John Mulaney, who purposefully changes the cue cards before showtime so that Hader can hardly believe what he's reading. In this edition, there's also the big Seth Meyers and Stefon kiss to crack up about.

In this first edition of the great recurring Justin Timberlake/Jimmy Fallon sketch, you can see Timberlake lower his head in an attempt to mask his laughter. This just proves: when Fallon is in a sketch, he's either cracking up or making someone crack up.

At around 5:04, after Drew Barrymore joins the "hottub," Will Ferrell, Rachel Dratch and Jimmy Fallon can hardly get through the script.

Young Christina Applegate and David Spade understandably crack up after just a few minutes with Chris Farley's iconic Matt Foley character.

Hilarity ensues when Jason Sudeikis slightly misses the desk at the end.

At around the 4:15 mark, notorious breaker Jimmy Fallon and Horatio Sanz completely lose it.

At around the :43 second mark, Candace Bergen forgets Gilda Radner's character's name and pretty much never recovers.

This sketch became such an instant Will Ferrell classic that it's easy to forget how Jimmy Fallon giggled through almost the entire thing.

Kristen Wiig and Maya Rudolph save this drowning sketch with their inability to hold it together.

Once again, Jimmy Fallon supplies the giggles through the entire sketch, but it's still terrific.

Janet Jackson has a little trouble with the wordplay.

It's really a travesty that this sketch never made it to air!

Watch until end to hear Ben Affleck attempt to deliver lines in a high-pitched whimper.

Due to the improvised nature of the bit, Kristen Wiig and Fred Armisen almost never get through "Garth and Kat" without a few breaks.

After a missed sound effect around the 1:18 mark, you can tell that Dana Carvey and Will Ferrell have to try hard not to lose it.

We couldn't find each of these online, so here's a compilation of some of Hartman's funniest bloopers.

Farley had too many unexpectedly funny moments on "SNL." This video captures some of his best bloopers and breaks.