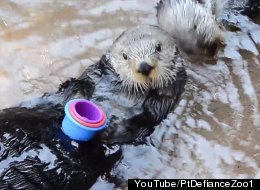 Nellie the sea otter is one cup-stacking hotshot.
In this captivating YouTube video, the aquatic acrobat cleverly manipulates a number of colorful cups before striking a pose with her friend, Abra.
The well-trained duo are currently residents at Point Defiance Zoo & Aquarium in Tacoma, Wash.
Sea otters were once hunted for their fur "to the point of near extinction," according to National Geographic. In the early 20th century, only 1,000 to 2,000 animals were left alive.
Today, sea otters are still listed as "endangered" on the IUCN Red List of Threatened Species. The animals -- now numbered at about 100,000 -- are protected by law.
Need more otter-ly cuteness? Click through this slideshow of of otter whelps that will make you weep with happiness: