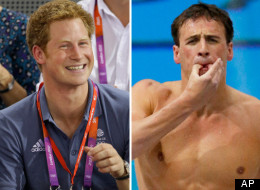 The Olympics might be over, but that doesn't mean Ryan Lochte is done racing. The U.S. Olympic swimmer ran into Prince Harry at a pool party in Las Vegas and the two apparently put on quite a show.
According to the Mirror, the 27-year-old prince challenged the Olympic gold medalist to a swim off.
Per the Daily Beast, Harry jumped in the pool at 3 a.m. still wearing his jeans and lost to Lochte, despite being given a head start. Apparently, there were 5,000 guest looking on.
WATCH VIDEO ABOVE
Lochte has spent plenty of time out of the water since coming home from the London Games. Whether he's attempting to trademark a catchphrase or diving into reality television, Lochte has been capitalizing on his post-Olympics fame, even if that "90210" cameo reportedly didn't go so well.