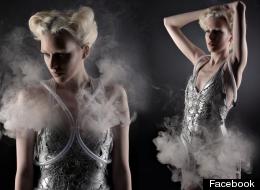 At the Technosensual exhibition in Vienna, Austria, form has literally met function.
Thirty-five designers from around the world put their minds to work to bring the worlds of fashion and technology together through functional clothing. What they came up with may amaze you — from a dress that makes cocktails to a DJ set you can wear.
The exhibit launched June 15th and runs through September 2nd, and admission is free.
Check out the slideshow below for a sample of some of the exciting designs from the exhibit:
Technosensual Exhibit 2012
Though this garment implies that it's for the starlet who loves the paparazzi, the actual function of the dress might frustrate one. The dress is studded with 62 LED bulbs that sense when a crowd is near and turn on in response to photography. For more info, visit the artist's site at Onascimento.com.

This outfit, the result of the collaboration of a fashion designer and a Dutch electronic conductor, could change the clubbin' experience all by itself. With zippers that work like fader controls when pulled up or down, the sound emitted by the suit can be manipulated much like a DJ controls his musical selections.

CNN describes the DareDroid as "a biomechanic cocktail-making dress." Simply put, it makes cocktails when it senses someone in the wearer's personal space. Oh yeah. But wait, there's a catch. According to v2.nl, the wearer and the dress work together to provide a cocktail only in exchange for a game of "Truth or Dare" that you play via a touch screen on the dress -- if you get too close without playing, the dress shuts down. From v2.nl: "The robotic performance playfully transgresses and explores human interaction in public spaces and inverts the normal social experience by asking people to reveal personal information."

Referred to by the artist as a "slime extravaganza," (and said to be based on Lady Gaga, for whom he was a stylist, according to CNET) this piece is inspired by Photoshop -- the person here looks like they've been "liquified," an effect available with the software.

This dress is smoking, literally, thanks to a battery-operated fog generator that kicks in when someone comes too close to the person wearing it.