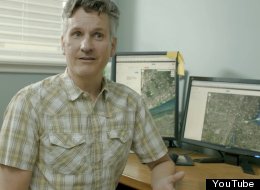 Bikers looking for safe and pleasant routes around Detroit don't have to look further than Google, thanks to Todd Scott.
Scott, the Detroit Greenways coordinator for the Michigan Trails and Greenway Alliance, was recently featured on the Google blog for his use of their Map Maker tool to keep Google Maps updated with accurate bike paths and lanes.
"A lot of folks were wondering if the City of Detroit could produce a bike map, but the city does not have a lot of resources to pull that off," Scott said in the video. "We're constantly adding new trails, and so it's really easy to go in and update Google Maps, and then the whole community can benefit from that right away."
Scott has already added 45 miles of biking paths and 15 miles of trails to Google Maps, which improves biking directions, and will have plenty more to keep him busy as the increasingly cycle-friendly city adds more than 70 miles of bike lanes and trails in the next two years.
As more routes are added, it's easy to imagine the city becoming a haven for bikers. But it's already great for cyclists, Scott previously told The Huffington Post.
"It's the best city I've ridden a bike in," he said.
Watch the video above and head over to the Google blog to read more about Scott and biking Detroit.
Check out images of the early days of Detroit cycling below:
This 1869 lithograph depicts a young woman on a velocipede, an early bike model, with a huge front wheel. Detroit bike historian Jack Van Dyke said developments in bicycle technology had a important impact on women's fashions and social norms: "If you were a lady, you could finally ride a bicycle because the step-through frame with no top tube had finally become available, so your floor length skirt would be accommodated. Also the bicycle was quickly introducing women's fashion like bloomers and pants for women. The bicycle killed the corset, largely. The corset was dying for many reasons, but the bicycle certainly helped."

This same picture is on display at The Hub of Detroit, where VanDyke works. He had this to say about the poster: "It says Grand Velocipide Academy or Gymnacyclidium. This is basically a skating rink, but for bicycles. Containing over 8,000 square feet for riding with a gallery and seats for people. There's a frickin' band. There was probably refreshments. There was probably booze. "This is basically like a riding rink for adults because after the Civil War when bikes started to come over to America, no knew how to ride. So what do you do if you're an entrepreneur who wanted to sell bikes? You have to open one of these riding rinks. And it's like a popular entertainment. People would kind of get a babysitter and go out to the rink. "This was basically what was going on in the 1860s and '70s, and like any fad, it got way overheated and collapsed right away."

This photo of the Bicycle Pavilion on Belle Isle in Detroit dates to between 1900 and 1906 and was originally printed by the Detroit Publishing Co. VanDyke said in the early days of biking, road races were relatively rare because there were few good roads. Belle Isle was a rare exception: "They did road races at Belle Isle because Belle Isle was a fairly controlled circuit that you could do a lot of miles on."

This picture of a cyclist on Belle Isle was published by the Detroit Photographic Co. between 1898 and 1905.

This bicycle race scene was published by Calvert Lithographing Co. in Detroit in 1895.

This 1913 photo shows Marion Davis, a messenger for Bellevue Messenger Service in Houston, Texas. It was taken by photographer Lewis Wickes Hines. "Delivery boys were common," said VanDyke. "The Pony Express turned into Western Union. They tended to have real sturdy bikes and not the whip-it fast messenger bikes that we think if now. "They tended to be single-speed coaster brakes --clunkers -- but they were reliable. You could ride them forever."

This picture of children posing with a bicycle and tricycles was printed in 1910 by the Detroit Publishing Co.

VanDyke believes this bike shop belonged to the Detroit bicycle and auto tycoon Bill Metzger: "Bill Metzger set up a bike shop with a partner. It was one of the most successful bike shop sin the state. but he sold his partnership in it in the 1890s and started thinking about investing int the automobile industry. "He ended up investing in the automobile business but he also reopened a bike shop -- just Metzger's bike shop in the late 1890s and operated it continuously for a long time that bike shop stayed opened into the 20s or 30s." VanDyke also believes Metzger, who became an influential car dealer, was instrumental in bringing Henry Ford together with cycling star Tom Cooper at an automobile race he sponsored called the manufacturer's Challenge Cup. The two men would later go on to create the famous 999 racing car that helped launch the Ford Motor Company.