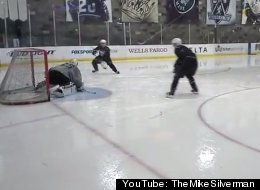 If the NHL season isn't wiped out by a lockout then perhaps someone should look into signing Tomas Sholl, especially a team with intentions of containing Sidney Crosby.
A 17-year-old goaltender with the Fresno Monsters of the NAHL, Stoll stopped the Pittsburgh Penguins' dynamo Sidney Crosby -- along with Scott Parse of the L.A. Kings -- during a demonstration drill at a camp frequented by several other NHL players.
WATCH VIDEO ABOVE
Sholl recently committed to Bowling Green State University, and will be competing in the Central Collegiate Hockey Association (CCHA).