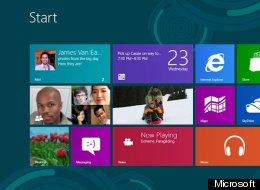 We're just about two months away from the release of Windows 8, the transformative new operating system for Windows desktops and laptops, and already the critics are getting testy.
In a lengthy interview with Laptop Mag, usability expert Raluca Budiu of the Nielsen Norman Group rips Windows 8 apart, questioning several of the foremost features in Microsoft's latest operating system.
Most of Budiu's concerns arise from the dual nature of Windows 8, which divides itself between the tiled, "Metro" screen familiar to Windows Phone users and the start-bar-and-icon "Desktop" screen that has been the default Windows look for over a decade. Forcing the user to juggle these two experiences, Budiu told Laptop Mag, is a major error. Budiu warns that there will be a "steep learning curve" before becoming familiar with Windows 8, which seems sure to frustrate the hundreds of millions of Windows users around the world (if, that is, those hundreds of millions of Windows users choose to upgrade).
Budiu is far more detailed about the shortcomings of Windows 8, and why it might frustrate users, in her interview with Laptop Mag (you can read the whole thing here); and we bring it up because Budiu represents just one in a growing chorus of experts and pundits who are sounding the alarm over this enormous impending release from Microsoft.
Farhad Manjoo of Slate recently titled an article "You'll Hate Windows 8," warning that though "[w]e may all grow to love it [...] Microsoft's radical operating system redesign will require some painful adjustments." TechCrunch's Frederic Lardinois agreed. Popular video game developer Gabe Newell famously called Windows 8 "kind of a catastrophe" in June.
It is perhaps awful luck that the "8" in "Windows 8" rhymes so easily and naturally with "hate," as so many early reviews and predictions have been dubious of the split-screen nature of the operating system.
Microsoft has gone through painstaking measures to explain Windows 8, and each little facet and function, to consumers in an excruciatingly detailed blog on its website. The company is riding a wave of critical goodwill for its Windows Phone operating system, and it has priced digital Windows 8 upgrades ($40) to move.
All of these negative, wary, or hesitant reactions must be weighing on Microsoft at least a little bit, however, especially given the company's recent history of releasing new versions of Windows (coughVISTAcough) to outright customer outrage. Microsoft has already released the final version of Windows 8 to computer manufacturers, and those first Windows 8 machines (as well as the operating system itself) will be available at the end of October.
Will customers appreciate Windows 8 more than the so-called "experts" and "pundits"? Microsoft has two months of praying and finger-crossing before it finds out.
Did you know you can pre-order your Windows 8 upgrade right now? You can! And here are some of the newest features in Windows 8, for those who need a quick refresher:
The new lock screen for Windows 8, which appears after you put your computer to sleep or restart or lock your computer. Notifications such as new email alerts, Wi-Fi availability and other essential, user-chosen information will be pushed to this screen.

Here is the start screen in the 'Metro' view (the classic start bar "desktop" view is still available). Users can scroll side-to-side, much as they would on an iOS or Android phone, for different groups of applications. Immediately to the right of this homescreen is the media hub (seen above).

Users have the option to categorize their apps into genre or function. Sinofsky and Green showed off a Media category, Games category and social networking category.

Users can zoom out from this view to see all of their apps at once. This is also where you can move entire blocks at a time closer to the homescreen. For example, if you want Games immediately next to your homescreen, or on the homescreen itself, you can pick up the entire block and drag it to the left.

Emphasizing touchability, a demo of the Windows 8's on-screen keyboard was shown to pop up with the scroll of the thumb. The new Microsoft OS still works, of course, with mouse and physical keyboard, but this is an option for those on tablets or touchscreen PCs.

The new control panel, in Metro view.

An RSS reader in Metro view--very scrollable and visual.

An expanded view of the RSS feed. Users can scroll up and down within articles or left and right to switch between articles.

A view of a hypothetical social network, in a pane interface. You can see the news feed pane on the left and the full view on the right.

While playing a video of paragliding, Julie Larson-Green turned up the volume via in the collapsible sidebar settings panel.

You can view two apps or windows at once on your tablet by dragging them together and letting them "snap" together. Seen above, a scannable News Feed flanks a paragliding video, letting the viewer work while enjoying media entertainment.

Starting up Internet Explorer in Metro mode. Here you can see the Most Visited pages and Favorites pinned to the page.

Typing a web address into Internet Explorer using the on-screen explorer.

A webpage viewed in Internet Explorer.

The 'Share Charm' icon sits on the Start bar. When you see something within an app you want to share, pull out the start bar and click 'Share"...

Select a piece of text, image, video or whole webpage and choose a contact in your address book you want to send that information to.

Green didn't mean to, but she showed off another new feature of Windows 8 (also recently added to Lion OS X): Universal Spell Check, which proofs words typed in any Windows 8 app.

Speaking of Mac, Windows 8 will have a spotlight-style universal search, which will let the user browse through the entire system for a search query.

The search bar can also scan through any of your apps, including apps like Bing that search online.