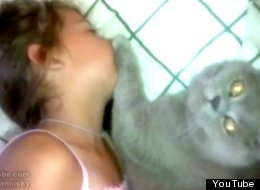 Cats are ruthlessly independent, incredibly nonchalant and basically don't give a f#@% about anything. Somehow we still love them, but there's no denying it: they're jerks!
When they aren't playing with iPads or getting stuck in things, most of the time our feline companions are being jerks to humans. They knock over our stuff, try to kill us when we least expect it and even fight with children. Seriously: what other animal would actually punch a baby?
For proof, just see the 19 examples of cats being jerks in the slideshow below. Trust us, this is only the tip of the cat jerk iceberg. Send us your unruly cat videos if you think you can top these!
So much goes wrong so quickly here.

This one has a convenient English translation.

"Shh... just go to sleep."

They also hate "America's Funniest Home Videos."

"No, I swear there is catnip down there."

Wait for the bratty face at the end.

Sorry.

"Get outta here!"

She's been drinking too much caffeine anyway.

Yes, it will end up in a reel.

"I liked it better when you crawled."

Mama said knock you out!

To be fair, this is why you don't give cats $800 Apple products.

"If I can't have it no one can."

At least the cat gets locked out in the end.

However, this is also how most humans would react.

"Whatever, you aren't sick."

"Am I going to end up on that Cheezburger site again?"

No oranges for you.