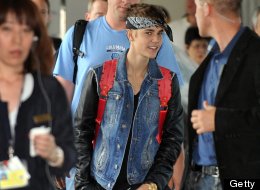 Celebrities love attention (just like us!), but some seek out the spotlight a little more than others.
Personally, we've never felt compelled to live-tweet a haircut, share daily bikini shots of ourselves or arrive at an airport dressed like Tupac. And if we found ourselves grinding with a stripper during a night of debauchery (happens all the time), we'd be fighting to hide the evidence rather than posting it on Instagram.
Here are the stars who've confounded us most with their look-at-me behavior, as of late.
"It was just one of those CUHHH-RAZY pant days," Miley just had to let us know recently. (And in case her bold bottoms weren't enough, she made sure it was also a bra-baring sheer top day.)

When Miley traded her usual 'do for a pixie cut, she wanted the world to know she stood by her decision.

Lest you forgot, she's happy with the haircut.

Okay??

You might still need convincing.

Sounds about right.

Because a summer day wouldn't be complete without a new photo of Kim in a bikini, she's been dutifully posting swimsuit pics on a near-daily basis. This one was captioned "Night Swim."

Then there was "Sandy beach day."

And "Aloha."

Kanye likes to tweet in all-caps, lest his message might be otherwise ignored.

Kanye also likes to vent about fashion.

And when he does, he has a lot to say.

And he wants to make sure you hear it.

And, do we really need to mention this?

When Rihanna parties with strippers, she wants everyone to see.

She's also been known to post provocative pics from her videos on Facebook.

She also occasionally sports see-through garb.

Pregnancy hasn't stopped Snooks from wearing look-at-me footwear.

Or engaging in publicity stunts (beer stroller, anyone?)

What generates more headlines than donning a dress made of meat for the VMAs?

Well, arriving at the Grammys in a giant translucent egg comes close!

Madonna's attention-seeking antics are nothing new, but she's garnered plenty of buzz on her MDNA tour this summer. While performing in Istanbul, for example, she flashed her right nipple at fans.

Anyone who strolls through an airport dressed like this probably wasn't hoping to remain incognito.

While we wouldn't call Stodden a full-fledged celebrity, the teen bride deserves an honorable mention for this Hello Kitty-themed fetish video.